Four things to watch: KHS Players present "Aida"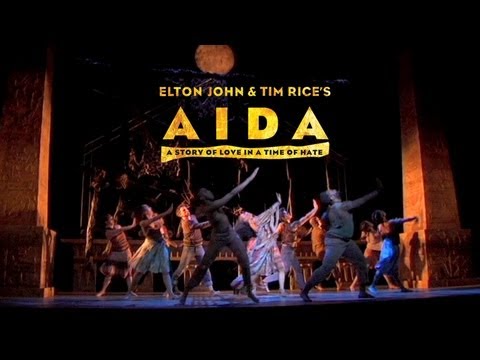 By Carrie Forster
Kaukauna Community News 
KAUKAUNA — The KHS Players will present the Tim Rice/Elton John rock opera "Aida" the weekend of Feb. 11 – 13, 2016 at Kaukauna High School.
Under the direction of Roz Bauer, the ensemble cast and crew will transport the audience to ancient Egypt and the love story of star crossed lovers Aida (an enslaved Nubian princess) and Radames (an Egyptian captain, betrothed to the Pharaoh's daughter). Four things to watch for:
1) Director and RVMS music teacher Roslyn Bauer explains why she chose this show:
I chose the show based on the current strengths of our student base and tried to balance their needs of being challenged and as well as giving them opportunities to shine. "Aida" is a timeless story based on Verdi's opera of the same name. This score by Elton John and Time Rice is challenging, but the students seem to really like it.
2) Bauer hopes the audience will appreciate the effort and dedication put in by cast and crew:
Musical theater and theater in general is an important part of many of their lives. I can tell by their attitude, behavior, attendance and dedication to creating the best possible production. It has been an amazing experience for me as I worked with these talented young actors/musicians.
3) Senior Tanner Hake portrays the character of Radames in the show. Hake says the theater program at KHS has influenced him and and has been an important aspect of his high school career:
As a senior I have been blessed to play one of my dream roles, Radames, in a show I care about so passionately. What I love about the show is the story line, music, and the rock edge it has to it, which I enjoy singing very much.
I also love that the show is written by Elton John, a singer I listened to when I was growing up.
I also have been fortunate enough to meet the original Broadway actor, Adam Pascal, who originated the role Radames.
I have had roles in six shows at KHS. Theater involvement is so important to me because I plan on becoming a professional actor and studying the craft of music and acting. Theater has opened so many opportunities for me and has taught me more than I can ever explain.
4) "Aida" is the first high school show for freshman Maggie Tienor. She describes her involvement in the show:
I can't even begin to describe how thankful and honored I am to be involved in my first show here at KHS. What stands out to me the most about this theatre experience is how hardworking and dedicated everyone is.
Whether we're putting together the set, or rehearsing our lines, everyone here offers so much of their own time to contribute to and make Aida possible. Every rehearsal is looked at as a chance to improve upon our roles in order to eventually put them into one amazing and talent-filled production.
Another thing that stood out to me is how helpful everyone is. There never is a moment spent with this cast and crew that you feel lost or left out of anything, and there always is someone willing to catch you up if you happen to fall behind. Being involved in "Aida" is exciting in many ways, mostly because it gives me the chance to learn more about acting and singing from my incredibly talented peers.
IF YOU GO:
Thursday, Feb. 11, 7 p.m.
Friday, Feb. 12 at 7 p.m.
Saturday, Feb. 13 at 2 p.m. and 7 p.m.
TICKETS:
Tickets are on sale by calling 920-766-6113, ext 5009 or stop by the Kaukauna High School. Buy early for best seat selection. Tickets also available at the door prior to each performance until sold out.
LOCATION:
All performance at the Bernie Hupperts Center for the Performing Arts at Kaukauna High School, 1701 County Highway CE, Kaukauna, WI 54130
Visit Kaukaua Community News on Facebook HERE to add local updates to your news feed.