.
Milwaukee Press Club award winner / Member, Fox Cities Chamber of Commerce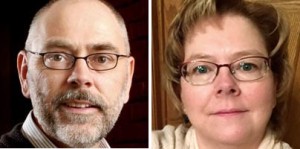 Kaukauna siblings Dan Plutchak and Carrie Forster were looking on social media for news devoted solely to their home town of Kaukauna.
They couldn't find one, so they decided to build their own and created the startup digital local news company Kaukauna Community News.
Plutchak is most recently the director of digital and social media at WKOW TV in Madison. Before that he was a newspaper editor with the Janesville Gazette and prior to that a photojournalist. Forster is a blogger, education consultant and retired teacher from the Kaukauna School District.
Plutchak is a silver award winner in the 93rd Annual Milwaukee Press Club Excellence in Wisconsin Journalism Contest. 
They encourage readers to share community news, events and opinions about the city. Please keep your comments friendly, like those who live here. Avoid heresay, innuendo or anything generally mean.
They're also working with some of Kaukauna's largest companies to reach their target audiences through social media and on their mobile devices. Learn more about advertising on Kaukauna Community News HERE.
Like our page at Facebook/KaukaunaCommunityNews to get updates throughout the day on in your newsfeed.
For news tips, inquiries, praise or complaints, email editor@KaukaunaCommunityNews.com
The Plutchaknews Network:
Kaukauna Community News: Facebook I Group I Website I Twitter I Instagram
Janesville News Report: Facebook I Group I Website I Instagram
Appleton Community News: Group I Facebook I Instagram
Ashwaubenon Community News: Facebook I Group I Website I Instagram
Door County Shore Report: Facebook I Website
Walworth County Community News: Facebook I Group I Website I Twitter
Delavan Community News: Facebook I Website