.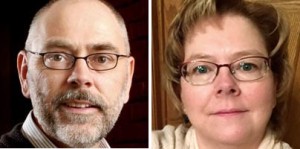 Kaukauna siblings Dan Plutchak and Carrie Forster were looking on social media for news devoted solely to their home town of Kaukauna.
They couldn't find one, so they decided to build their own and created the startup digital local news company Plutchaknews Network.
Plutchak is most recently the director of digital and social media at WKOW TV in Madison. Before that he was a newpaper editor with the Janesville Gazette and prior to that a photojournalist. Forster is a blogger, education consultant and retired teacher from the Kaukauna School District.
They encourage readers to share community news, events and opinions about the city. Please keep your comments friendly, like those who live here. Avoid heresay, innuendo or anything generally mean.
Like our page at Facebook/KaukaunaCommunityNews to get updates throughout the day on in your newsfeed.
For news tips, inquiries, praise or complaints, email editor@KaukaunaCommunityNews.com
The Plutchaknews Network:
Kaukauna Community News: Facebook I Website I Twitter
Kaukauna Community Group: Facebook
Appleton Community News: Group I Facebook
Ashwaubenon Community News: Facebook I Website
Ashwaubenon Community Group: Facebook
Door County Shore Report: Facebook I Website
Door County Fishing: Group
Walworth County Community News: Facebook I Website I Twitter
Walworth County vacation and photography group: Facebook
Fishing Walworth County: Facebook I Group I Website
Delavan Community News: Facebook I Website