KAUKAUNA — Bruce H. McCabe, 71, known for his love and support of Kaukauna athletics, died after a battle with heart disease.
He was surrounded by family and friends, according to a notice in the Post-Crescent.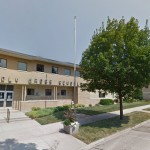 Visitation will be held on Sunday, August 18, 2019, from 2:00 p.m. until 6:00 p.m. at the Holy Cross "Carl Giordana" Gymnasium, 309 Desnoyer Street, Kaukauna (use the Sarah Street/Gym entrance by the parking lot).
Visitation will continue in the Gym on Monday, from 9 a.m. until the time of the service at noon.
In honor of McCabe's love of sports, the family is asking people to wear sports casual clothing including jerseys, hats, polos or Kaukauna attire.
A complete obituary will be in Saturday's paper.