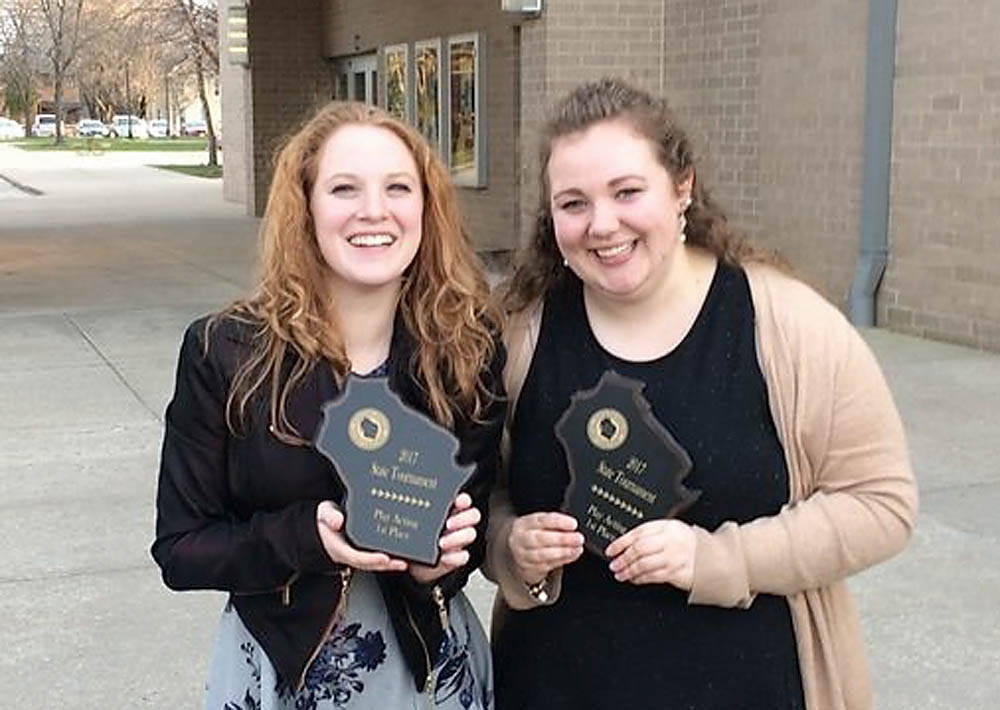 KAUKAUNA – Kaukauna will celebrate  its state forensics champions champions Saturday with a fire truck ride through town.
Mikenna Buchinger and Julia Holschuh defeated 47 others April 1, 2017 in the play acting category to take home the title at the WFCA state tournament at the University of Wisconsin-Whitewater.
Caven Malouf earned a semi-finalist medal in the category called farrago.
KHS students Janelle Knick, Rachel Hietpas, Trent Hoffman and Mauricio Bentley earned a fifth-place finish in play acting.
This year's WFCA State Tournament consisted of more than 70 schools and over 900 entries.
The fire engine parade will begin at 10:30 a.m. Saturday, April 15, 2017 at Dollar General on the north side. The procession will end at the high school.
The KHS Forensics team will end its season by competing in the Wisconsin High School Forensic Association State Tournament in Madison on April 21-22, 2017.
WFCA champions
In team awards, James Madison Memorial High School was named Division 1 State Champion, Waunakee High School was named Division 2 State Champion, and St. Lawrence Seminary High School was named Division 3 State Champion.
The 2017 congress, speech, and interpretive event state champions are:
Colin Gray-Hoehn from Brookfield East in Student Congress
Devika Kamath from James Madison Memorial High School in Demonstration Speaking
Bella Hyndiuk and Michelle Lazar from Brookfield East High School in Duo Interpretation
Anurag Sandireddy from James Madison Memorial High School in Extemporaneous Speaking
Humberto Huerta from St. Lawrence Seminary High School in Farrago
Bryant Nguyen, Jefferson Nguyen , Martin Vu, Peter Hall and Teddy le from St. Lawrence Seminary High Shool in Group Interpretation
Evanka Annyapu from James Madison Memorial High School in Informative Speaking
Erik Bakken from Appleton North High School in Moments in History
Madison Carlson from Sun Prairie in Oral Interpretation
Priyanka Iyer from Franklin High School in Oratory
Julia Holschuh and Mikenna Buchinger from Kaukauna High School in Play Acting
Kellen Sharp from Ronald Reagan High School in Poetry
John Vu from St. Lawrence Seminary High School in Prose
Joe Skubal from Slinger High School in Radio Speaking
Rachel Bednarowski from Appleton East HS in Solo Humorous Acting
Durran Goodwin from Rufus King in Solo Serious Acting
Addie Zweifel from James Madison Memorial High School in Special Occasion Speaking
Sophia Kulow from Sun Prairie in Storytelling