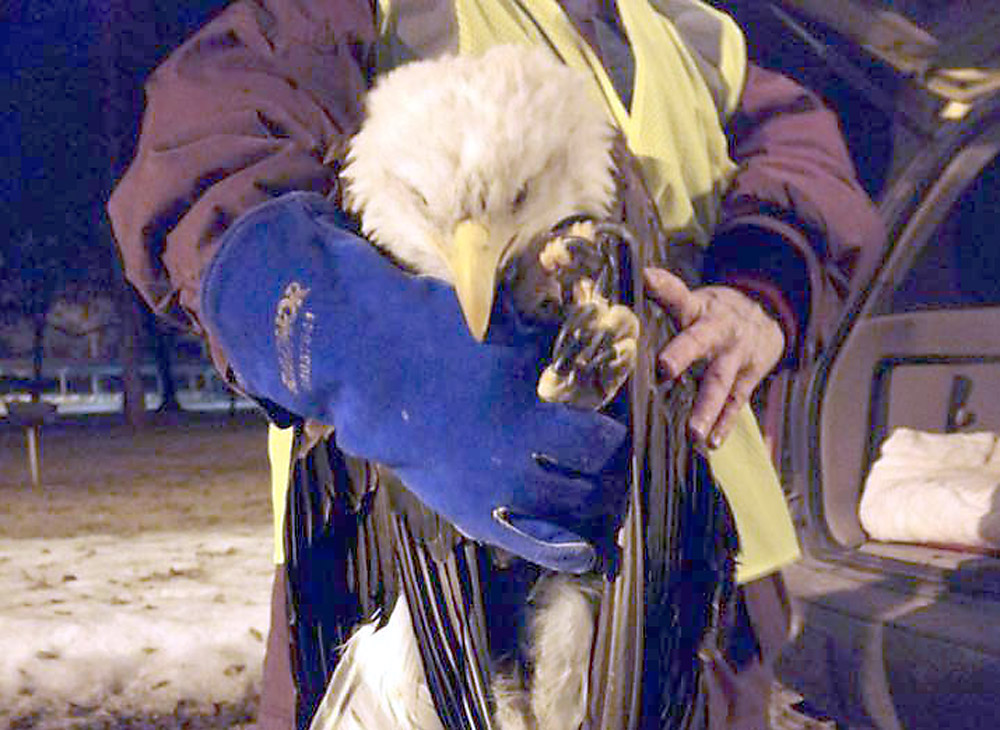 KAUKAUNA — The bald eagle that later died after being rescued from Kaukauna's La Folette Park Feb. 14, 2017 suffered from lead poisoning, according to test results.
Samples sent to an animal diagnostic lab for analysis after the bird died revealed that very high levels of lead poisoning caused the eagle's death, according to a post on the Bay Beach Wildlife Sanctuary Facebook page.
The levels of lead found in the eagle were many times higher than the normal amount that an eagle can live with, according to the sanctuary.
"Since we have no knowledge of the eagle's history, we cannot say with certainty how the eagle ended up with such high levels of lead," the post read.
Wildlife officials said that they know from previous experiences that animals who scavenge off deer or other animal carcasses that have been killed with lead shot can become poisoned from ingesting even small pieces of lead bullet fragments.
Despite receiving care overnight in February at Bay Beach Wildlife Sanctuary in Green Bay, the eagle died after being discovered by a neighbor in the Kaukauna park.
"We knew he was very sick and weak when he arrived at the sanctuary, but as we do with all injured or sick animals, we put our best effort and love into his utmost care," according to a news release. "We made him feel as comfortable as possible as we evaluated his condition."
The bird apparently had been on the ground in La Follette Park for several hours when neighbor Karen Barto noticed it and called the sanctuary in Green Bay.
Staff from the sanctuary then contacted Kaukauna police Tuesday requesting assistance, and the bird was captured about 8 p.m. that evening, according to Assistant Chief Jamie Graff.
Officers snapped a quick photo of the eagle before it was transported to Green Bay and posted it to the department's Facebook page where it quickly was shared throughout the Fox River Valley.
"We are currently giving the eagle supportive care with fluids and oral feedings and have it under observation," said senior animal keeper Matt Rupnik after the bird arrived at the facility.
Rupnik said the bird was a mature adult bald eagle, approximately 5 years old.
When the eagle was admitted to the sanctuary it was of good weight with no noticeable injuries found, but was noticeably weak with a slight head droop.
Bay Beach Wildlife Sanctuary treats anywhere from two or three eagles per year to as many as 10.
Rupnik reminds residents that if they are concerned about an animal in their yard or area, contact the Bay Beach Wildlife Sanctuary anytime between 8 a.m. and 4:30 p.m. daily at 920-391-3685.