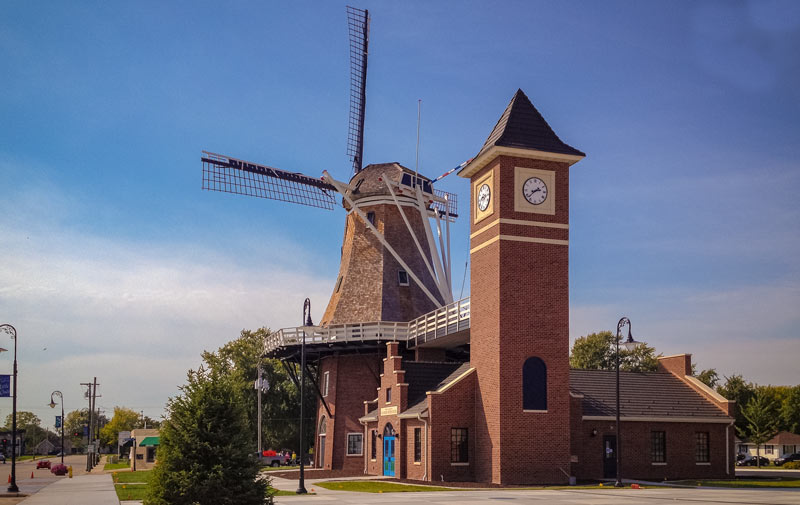 LITTLE CHUTE – The village of Little Chute was honored with a best revitalization initiative award at the 26th Wisconsin Main Street Awards ceremony held April 7, 2017, at Hotel Mead in Wisconsin Rapids.
The village was a co-winner in the Connect Communities Award: Best Revitalization Initiative, community over 5,500 award.
Mark R. Hogan, secretary and CEO, and other WEDC leaders were on hand to recognize the efforts by Main Street volunteers and staff for the historic preservation and downtown economic development efforts of communities in Wisconsin, according to a news release.
"A vibrant downtown is critical to a community's overall economic development as well as the quality of life of its residents," Hogan said. "Main Street staff and volunteers throughout the state have spent countless hours developing innovative ways to invigorate their respective downtowns and they deserve to be recognized for their efforts."
Wisconsin Main Street is a community development program administered by WEDC that targets Wisconsin's historic commercial districts. WEDC provides technical support and training to the 34 Main Street communities to help them revitalize their business districts based on guidelines developed by the National Trust for Historic Preservation.
Since the program's inception in 1987, Wisconsin Main Street community projects have resulted in the creation of more than 2,600 new businesses and more than 13,000 net new jobs. In addition, more than $1.6 billion in public and private investment has occurred in Wisconsin Main Street communities.
In fiscal year 2016, the program resulted in the creation of an estimated 744 jobs and 138 new businesses. The program also generated $175 million in public and private investment, renovated or reconstructed nearly 300 buildings and held nearly 600 events with a total attendance of 1.6 million.
Also on hand at the event April 7, 2017 were members of WEDC's Connect Communities Program, a companion program to Wisconsin Main Street created in 2013 to provide access to resources and training to help communities pursue revitalization and redevelopment efforts. In fiscal year 2016, the 48 participating communities added 60 net new businesses, more than 300 net new jobs and more than $45 million in public and private investment.
The awards presented April 7, 2017 night were:
Best Volunteer Engagement
Winner: Whitewater City Market, Whitewater
Best Upper Floor Rehabilitation Project
Winner: Clark Dietz Inc., Kenosha
Best Storefront Display
Winner: Monet Floral, La Crosse
Best Special Event
Co-Winner: Campfire Nights—Ladysmith Main Street, Ladysmith
Co-Winner: Artspire, La Crosse
Best Retail Event
Winner: 2016 Shop Small Raffle, Fond du Lac
Best Public/Private Partnership in Downtown Revitalization
Winner: Umbrella Art Over Third Street, Wausau
Best Historic Restoration
Winner: Connie Weigert, K.L.C. Properties; The Artisan Preservation Company; Short-Elliott-Hendrickson, La Crosse
Best Public Improvement
Winner: Second Avenue Reconstruction Project, Wausau
Honorable Mention: Free Downtown WiFi, Platteville
Best New Business
Winner: The Homesteader's Pantry, Marshfield
Honorable Mention: Café on Main, Tomahawk
Best Façade Rehabilitation under $10,000
Winner: Simple Living & Sodie's Cigar Shop, Osceola
Best Façade Rehabilitation over $10,000
Winner: Rogers & Rogers, LLC (123 Watson), Ripon
Best Business Development/Retention Program
Winner: 2016 Downtown Morning Marketing Meetups, Fond du Lac
Best Cooperative Business Marketing Campaign
Winner: The Twelve Days of Pewaukee, Pewaukee
Connect Communities Award: Best Revitalization Initiative – Community under 5,500
Winner: City of Cuba City, Cuba City
Connect Communities Award: Best Revitalization Initiative – Community over 5,500
Co-Winner: Reedsburg ArtsLink, Reedsburg
Co-Winner: Village of Little Chute, Little Chute
Best New Building
Winner: Renew Port Holdings/Harbour Lights, Port Washington
Best Creative Fundraising Effort
Honorable Mention: Snowflake and Banner Project, Tigerton
Winner: Watertown Santa House, Watertown
Best Interior Renovation under $50,000
Honorable Mention: Broadway Theater, De Pere
Winner: Heather Haller-White Stag, Rice Lake
Best Interior Renovation over $50,000
Co-Winner: RiverGroup Financial Advisors, Osceola
Co-Winner: The Spa Boutique at Barbershop Rock, Platteville
Best Image Item/Campaign/Event
Honorable Mention: Downtown Whitewater, Inc.-Design Committee Butts to Benches Campaign, Whitewater
Winner: 2016 Downtown Fond du Lac Farmers Market Poster Series, Fond du Lac
Best Adaptive Reuse Project
Winner: Chippewa River Distillery/Brewster Bros. Brewing Co., Chippewa Falls
Executive Director Years of Service Awards
Five Years:
Shauna El-Amin, Beloit
Shirl Breunig, Sheboygan Falls
10 Years:
Amy Hansen, Fond du Lac
14 Years:
Elaine Kroening, Pewaukee
21 Years:
Kathy Wellsandt, Rice Lake
25 Years:
Craig Tebon, Ripon
2016 Wisconsin Main Street Volunteers of the Year
Tim Taylor, Beloit
Sue Cashman, Darlington
Rose Smits, De Pere
Katie Sperbeck, Fond du Lac
Erik Bedore, Kenosha
Kelly Schotzko, Ladysmith
Kristin Cramer, Lake Mills
Kelsey Williams, La Crosse
Danielle Krohn, Marshfield
Brad Grebner, Monroe
Shirley Johnson, Osceola
Tammy LaBorde, Pewaukee
Gary Munson, Platteville
David Wellsandt, Rice Lake
Kim Bahr, Ripon
Stefanie Trakel, Sheboygan Falls
Joshua Suehring, Tigerton
Roger Glocke, Tomahawk
Madison and Samantha Kronforst, Two Rivers
Robert Gariepy, Waterford
Wanda Fredrick, Watertown
Sarah Lentz, Wausau
Sarah Linn, Whitewater
2016 Honorary Board Members
Elaine Ribarich, Beloit
Judy Boll, Darlington
MaryAlexis Pfutzenreuter, De Pere
Tom Deitte, Fond du Lac
Paul McDonough, Kenosha
Don Rubow, Ladysmith
Tom Boycks, Lake Mills
Cindy Cole, Marshfield
Tom Miller, Monroe
Alice Rekstad, Platteville
Melanie Burdick, Rice Lake
Steve Sorenson, Ripon
David Horner, Sheboygan Falls
Elaine Erickson, Tigerton
Jim Wise, Tomahawk
Rusty Walesh, Two Rivers
Lori Hemmersbach, Viroqua
Michele Jones, Waterford
Brian Konz, Watertown
Kristine Zaballos, Whitewater
2016 Wisconsin Main Street Hall of Fame Inductees
Nancy Beck, Osceola
Sandra Budewitz, Watertown
Debra Abt, Viroqua