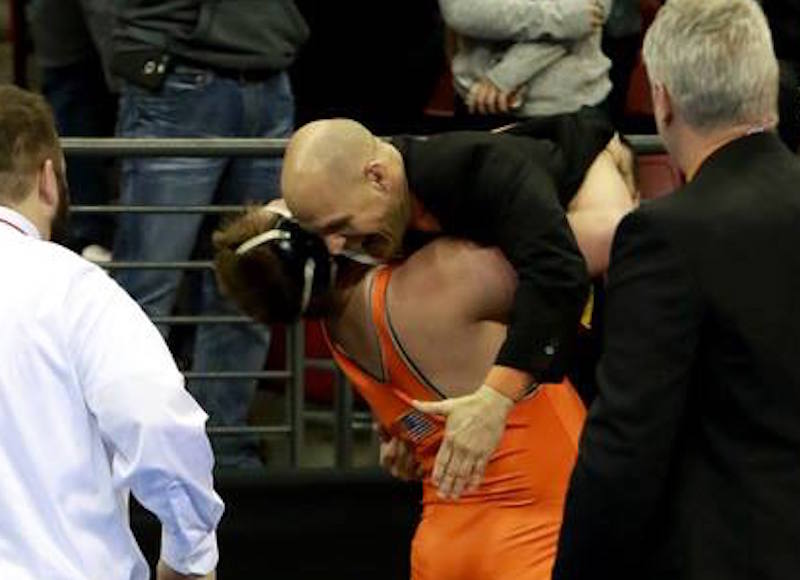 MADISON — For all those fans, friends and families who waited for the final WIAA Division 1 wrestling match of the evening, they weren't disappointed.
Kaukauna's Keaton Kluever scored a 2-point takedown of Pewaukee's Blaze Beltran in the final seconds of the match to give him a state title.
Twitter quickly lit up with celebrations and congratulations.
Here are our 10 favorite Tweets:
The Post-Crescent area has one more match remaining: The 285 title between Kaukauna's @KeatonKluever and Pewaukee's Blake Beltran #hsswi

— Ricardo Arguello (@PCRicardo) February 26, 2017
Keaton Kluever (Kaukauna) vs Blaze Beltran (Pewaukee)
https://t.co/qjgE9H9Ein via @trackwrestling

— GhostWrestling (@Ghostrained) February 26, 2017
Blaze Beltran was winning 3-2 in the final seconds. Then @KeatonKluever goes and pulls this off for @kau_wrestling @KaukaunaKrazies pic.twitter.com/ifjzTNVqjN

— JP Cadorin (@jpcadorin) February 26, 2017
A last second point secured @KaukaunaGhosts' Keaton Kluever the 285-pound championship in Madison. pic.twitter.com/cZci5LMUp7

— Danny Damiani (@dtdamiani) February 26, 2017
@KeatonKluever is the man! State champ and definitely deserves that one, congrats big man! ✊🏼

— Jordan McCabe (@JordanMcCabe5) February 26, 2017
@trackwrestling @KeatonKluever thats a bad man

— Seth Lecher (@LecherSeth) February 26, 2017
Congrats @KeatonKluever my vote for best match of the night #championshipsaturday

— Tom Clark (@WiskySportsFan) February 26, 2017
Keaton Kluever the new State Champ from Kaukauna. Great Job loved watching it #rollghosts

— Jonah Roehrig (@jonahroehrig13) February 26, 2017
Keaton kluever takes first!!!

— Kaukauna Wrestling (@kau_wrestling) February 26, 2017
I plan on doing a follow-up column on .@KeatonKluever's incredible win in the coming days. His win was a WIN FOR ALL BIG GUYS!! #respect

— Ricardo Arguello (@PCRicardo) February 26, 2017