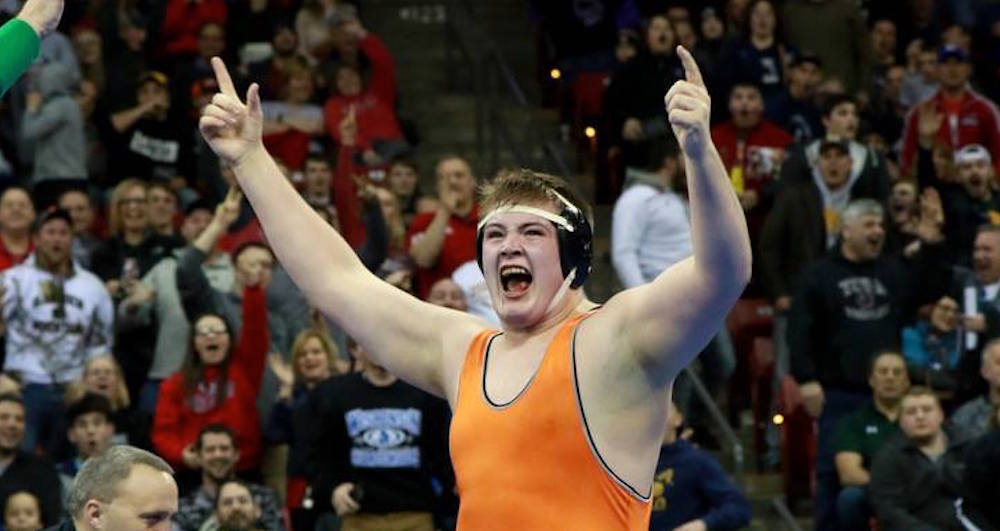 MADISON — Nobody appeared more stunned at what had just happened than Keaten Kluever after winning his 285 pound Division 1 WIAA championship match.
Exhausted from battling Pewaukee's Blaze Beltran, and behind 3-2 with moments to go, Kluever had one more trick up his sleeve. A takedown actually, that give Kluever his improbable win.
"I wasn't sure," reported the Post-Crescent's Ricardo Aguello. "I looked up all of a sudden after I threw him on his back and thought, 'Oh, gosh. What's it going to be?' And then I saw the green (4-3) and I freaked out."
Kluever quickly launched into celebration mode and circled the mat with his hands in the air while his coaches rushed to congratulate him.
Trent Leon and Brandon Micksh of Kaukauna also made it to the semifinals but did not advance to the championship round.
The Ghosts sent seven wrestlers to the individual meet, including Jon Diener, Zach Lee, Bryson Alsteen and Mason VanAsten.
Kluever will return to Madison next weekend as he leads his team while the attempt to repeat as state team wrestling champions.
Division 1
106-Eric Barnett (Hortonville) 45-0 won by decision over Hunter Lewis (Stoughton) 50-4 (Dec 7-4)
113-Dalton Shea (Milton) 44-7 won in the ultimate tie breaker over Brady Koontz (Stevens Point) 36-1 (UTB 5-4)
120-Keegan O`Toole (Arrowhead) 40-4 won by decision over Tristan Jenny (Stoughton) 41-9 (Dec 7-5)
126-Benji Peak (Elkhorn Area) 45-2 won in sudden victory – 1 over Jacob Barnett (Hortonville) 43-4 (SV-1 10-8)
132-Brandon Klein (Stoughton) 53-3 won by decision over Veliko Kochiu (Oak Creek) 30-2 (Dec 6-0)
138-Drew Scharenbrock (Sun Prairie) 48-2 won by decision over Kevin Meicher (Middleton) 46-5 (Dec 4-0)
145-Jaden Van Maanen (La Crosse Central) 49-0 won by decision over Garrett Model (Stoughton) 46-6 (Dec 3-1)
152-Peyton Mocco (West Allis Nathan Hale) 46-3 won by decision over Shane Gantz (Waukesha West) 41-2 (Dec 5-4)
160-Tyler Dow (Stoughton) 52-2 won by decision over Elliott Luker (Hortonville) 41-3 (Dec 4-0)
170-Jose Acosta (Manitowoc Lincoln) 48-1 won by decision over Parker Keckeisen (Nicolet) 45-2 (Dec 4-2)
182-Jackson Hemauer (DeForest) 49-1 won by decision over Billy Pitzner (Milton) 47-5 (Dec 6-3)
195-Jacob Raschka (Pewaukee) 52-2 won by decision over Dalton Hahn (Reedsburg Area) 48-2 (Dec 8-5)
220-Aric Bohn (Mukwonago) 40-7 won by decision over Cole Godbout (Hudson) 37-5 (Dec 10-4)
285-Keaton Kluever (Kaukauna) 47-3 won by decision over Blaze Beltran (Pewaukee) 51-2 (Dec 4-3)
Division 2
106-Cody Holmes (Two Rivers) 46-3 won by major decision over Charlie Stuhl (Ellsworth) 35-5 (MD 17-8)
113-Bryce Bosman (Luxemburg-Casco) 46-3 won by decision over Joey Bianchi (Two Rivers) 40-6 (Dec 2-0)
120-Brock Bergelin (Denmark) 37-1 won by major decision over Julian Purney (Melrose-Mind./G.-E.-T.) 39-12 (MD 9-0)
126-Dustin Hatfield (River Valley) 41-0 won in sudden victory – 1 over Aidan Medora (St. John`s NW Mil. Ac./Br. Ac.) 38-4 (SV-1 4-2)
132-Sam Stuhl (Ellsworth) 46-0 won by decision over Zach Licht (River Valley) 42-4 (Dec 8-6)
138-Scott Cook (New London) 34-2 won by decision over Ryan Hannah (Viroqua) 47-3 (Dec 4-3)
145-Bryce Ash (Oconto Falls) 40-3 won by decision over Laken Duerschmidt (Two Rivers) 31-10 (Dec 11-5)
152-Devin Bahr (West Salem/Bangor) 38-0 won by major decision over Chase Schmidt (Rice Lake) 38-3 (MD 14-1)
160-Shane Liegel (River Valley) 42-4 won by decision over Nate Trepanier (Oconto Falls) 45-2 (Dec 5-4)
170-Elijah Alt (River Valley) 44-1 won by decision over Dalton Smerchek (Luxemburg-Casco) 41-7 (Dec 3-2)
182-Jacob Sigler (Ellsworth) 44-5 won by fall over Bryce Herlache (Wrightstown) 33-4 (Fall 4:00)
195-Hunter Luepke (Spencer/Columbus Cath.) 39-2 won by decision over Lucius Rinehart (Evansville/Albany) 36-1 (Dec 8-1)
220-Dakotah Daffinson (Melrose-Mind./G.-E.-T.) 42-6 won by decision over German Fitzgerald (Wisconsin Lutheran) 42-4 (Dec 10-6)
285-Phil Rasmussen (Luxemburg-Casco) 42-8 won in the ultimate tie breaker over Cody Jacobson (Ripon) 44-3 (UTB 3-2)
Division 3
106-Koltin Grzybowski (Coleman) 41-3 won by fall over Manny Drexler (Stratford) 41-4 (Fall 1:00)
113-Caleb Gross (Coleman) 39-3 won by decision over Lucas Schevikhoven (Shoreland Lutheran) 42-2 (Dec 5-2)
120-A. J. Schoenfuss (Stratford) 35-5 won by decision over Sawyer Sarbacker (Iowa-Grant/Highland) 45-2 (Dec 4-3)
126-Trevor Wanek (Fennimore) 39-10 won by decision over Max Dascher (Cochrane-Foun. City) 35-4 (Dec 3-1)
132-Cal Hansen (Deerfield) 47-1 won by decision over Tate Murty (Cochrane-Foun. City) 35-2 (Dec 8-4)
138-Jeremy Schoenherr (Stratford) 17-0 won by decision over Sammy VanStraten (Shiocton) 40-4 (Dec 5-1)
145-Justin Tollefson (Fennimore) 45-6 won by decision over Austin Engel (Athens) 35-6 (Dec 10-4)
152-Mason Kauffman (Stratford) 32-0 won by major decision over James Pfeiffer (Cadott) 39-5 (MD 18-7)
160-Brock Schlough (Boyceville) 43-1 won by decision over Bradon Roen (Riverdale) 21-3 (Dec 5-2)
170-Helton Vandenbush (Random Lake) 46-1 won by decision over Brady Peat (Iowa-Grant/Highland) 42-7 (Dec 5-2)
182-James Palmer (Boyceville) 44-1 won by decision over Alex Peplinski (Wittenberg-Birn.) 44-5 (Dec 6-1)
195-Garrett Joles (Boyceville) 44-1 won by major decision over Tory Jandrin (Southern Door) 41-5 (MD 18-6)
220-Kamren Bornbach (Stratford) 39-1 won by decision over Noah Wieczorek (Clear Lake) 41-5 (Dec 9-4)
285-Donovan Salewski (Coleman) 39-6 won by fall over Tyson Sommer (Athens) 43-5 (Fall 3:49)