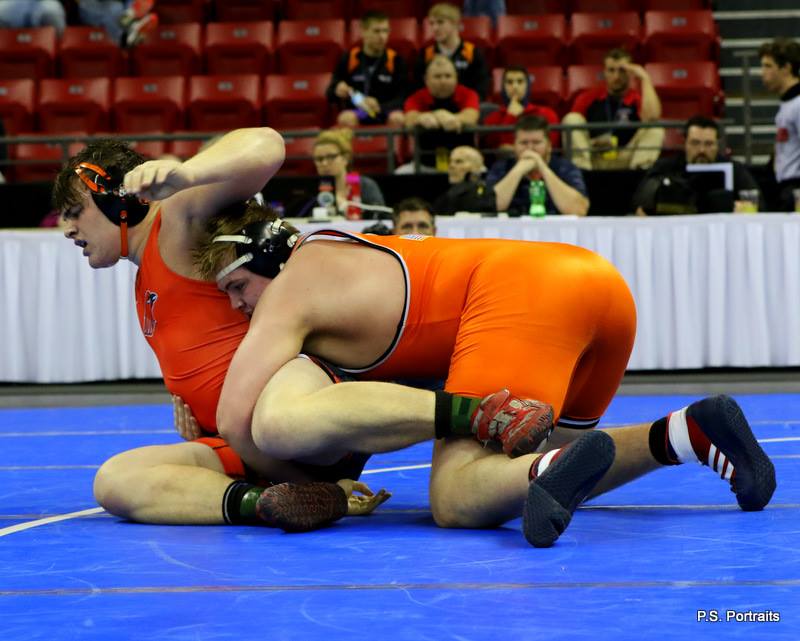 MADISON — Kaukauna's Keaton Kluever will wrestle  for a state championship tonight, Feb. 25, 2017, in the 285-pound class in the WIAA Division 1 wrestling final.
Kluever faces reigning state champion Blaze Beltran of Pewaukee. He advanced with a semifinal win over EJ Mastrocola of Big Bend.
Trent Leon and Brandon Micksh of Kaukauna also made it to the semifinals but did not advance to the championship round.
The Ghosts sent seven wrestlers to the individual meet, including Jon Diener, Zach Lee, Bryson Alsteen and Mason VanAsten.
Session 5 – Saturday, Feb. 25, 2015 – Three Mats
March of Champions – 5 p.m. (Doors open 3:30 p.m.)
Div. 1, 2, & 3 Championships
Consolation wrestlebacks begin at 10 a.m.
Watch the championship matches live HERE.
WIAA press release:
Stoughton advances the most wrestlers to the Division 1 finals with five. River Valley has four contenders in the finals to lead all programs in Division 2, and Stratford claims the most finalists in Division 3 with five.
Twenty-two former champions are in contention to add another title with triumphs in their semifinal matches. In addition, nine of the 16 undefeated competitors entering the tournament are one win away from a perfect season.
Previous champions advancing to the finals in Division 1 are Brady Koontz (36-0) of Stevens Point at the 113-pound weight class; Brandon Klein (52-3) of Stoughton at 132, Kevin Meicher (46-4) of Middleton at 138; Jaden Van Maanen (48-0) of La Crosse Central and Garrett Model (46-5) of Stoughton at 145; Jackson Hemauer (48-1) of DeForest and Billy Pitzner (47-4) of Milton at 182; Jacob Raschka (51-2) of Pewaukee at 195; and Blaze Beltran (51-1) of Pewaukee at 285.
Among the wrestlers in Division 1 still eyeing a perfect season are Eric Barnett of Hortonville (44-0) at 106, Koontz (36-0) at 113, Van Maanen (47-0) at 145.
In Division 2, three two-time champions return to the final to continue their quest for a third title. The trio of two-time champs are Brock Bergelin (36-1) of Denmark at 120, Sam Stuhl (45-0) of Ellsworth at 132 and Devin Bahr (37-0) of West Salem/Bangor at 152.
Those still in contention for a second individual crown in Division 2 are Bryce Bosman (45-3) of Luxemburg-Casco at 113, Ryan Hannah (47-2) of Viroqua at 138, and Nate Trepanier (45-1) of Oconto Falls at 160.
Stuhl and Bahr are two of four remaining undefeated participants in the division. The others are Dustin Hatfield of River Valley (40-0) at 126 and Lucius Rinehart of Evansville/Albany (36-0) at 195.
Seven former champions are still in the running for another title in Division 3. A.J. Schoenfuss (34-5) of Stratford advances to the semifinals at 120 in his pursuit to win a third crown. Teammates Jeremy Schoenherr (16-0) and Kamren Bornbach (38-1) have advanced to the finals at 138 and 220, respectively, en route to a possible third title.
In addition, Stratford's Mason Kauffman (31-0) is seeking his second individual championship. A pair of last year's champions will battle for the crown at 160. The match features Brock Schlough (42-1) of Boyceville, last year's champion at 138, and Bradon Roen (21-2) of Riverdale, the winner a year ago at 152. Helton Vandenbush (45-1) of Random Lake is in contention to repeat as champion at 170.
Schoenherr and Mason Kauffman are the only two wrestlers without a defeat this season in Division 3.
The finals begin Saturday at 5 p.m. with the doors opening at 3:30 p.m.
Watch the live broadcast of the WIAA State Individual Wrestling finals on FS Wisconsin. The live broadcast of the finals will also be streamed on Fox Sports Go with cable provider authentication. In addition, each mat of the finals will be live streamed on Fox Sports Go without authentication.