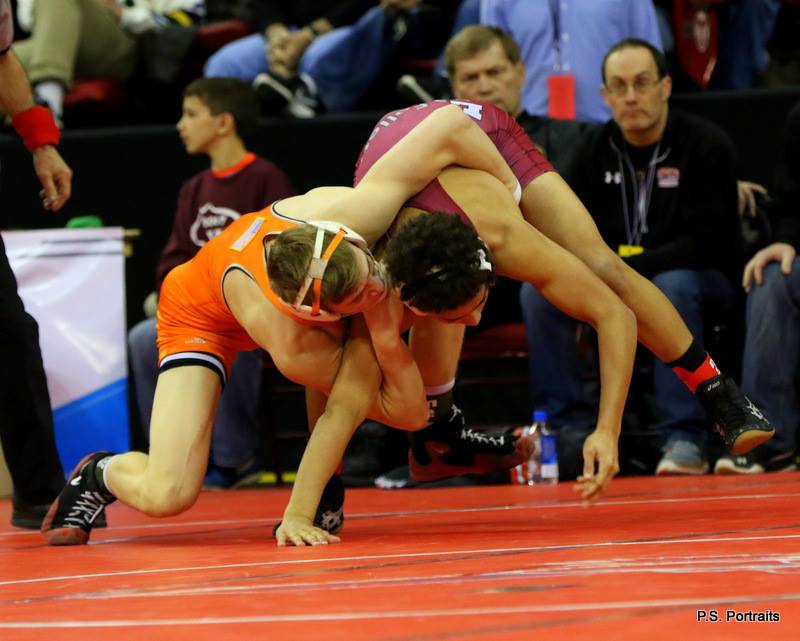 MADISON — The field for the 2017 State Individual Wrestling Tournament semifinals Friday evening at the Kohl Center has been determined in three divisions.
For Kaukauna, Brandon Micksh (120 pounds), Trent Leon (132) and Keaton Kluever (285) advanced.
The semifinal round begins at 7 p.m. on Friday, Feb. 24, 2017.
Ten former champions and seven undefeated competitors remain in contention for individual titles.
Previous champions advancing to the semifinals include twin brothers, Brady and Dylan Koontz of Stevens Point at the 113- and 120-pound weight classes, respectively; Brandon Klein of Stoughton at 132, Kevin Meicher of Middleton at 138; Jaden Van Maanen of La Crosse Central and Garrett Model of Stoughton at 145; Hayden Krein of Sparta at 160; Jackson Hemauer of DeForest and Billy Pitzner of Milton at 182; Jacob Raschka of Pewaukee at 195; and Blaze Beltran of Pewaukee at 285.
Among the wrestlers in Division 1 still vying for a perfect season in Division 1: Eric Barnett of Hortonville (43-0) at 106, Brady Koontz (35-0) at 113, Jacob DeMeyer of Rhinelander (42-0) at 145, Jaden Van Maanen (47-0) at 145, Jared Krattiger of Waterford (48-0) at 182, and Ben Kitslaar of Bay Port (43-0) and Wyatt Wells of Beaver Dam (48-0) at 220.
In Division 2, three two-time champions take to the mat Friday night to continue their quest for a third title. The trio of two-time champs entering the semifinals are Brock Bergelin of Denmark at 120, Sam Stuhl of Ellsworth at 132 and Devin Bahr of West Salem/Bangor at 152.
Those still in contention for a second individual crown are Bryce Bosman of Luxemburg-Casco at 113, Ryan Hannah of Viroqua at 138, and Nate Trepanier of Oconto Falls at 160.
Stuhl (44-0) and Bahr (36-0) are two of five remaining undefeated participants in the division. The three others are Dustin Hatfield of River Valley (39-0) at 126, Eric Bauer of Kewaskum (37-0) at 132, and Lucius Rinehart of Evansville/Albany (35-0) at 195.
All nine of the former champions are still in the running for another title in Division 3. A.J. Schoenfuss of Stratford advances to the semifinals at 120 in his pursuit to win a third crown. Teammates Jeremy Schoenherr and Kamren Bornbach have also advanced to the semifinals at 138 and 220, respectively, en route to possibly third title.
Two other Stratford wrestlers are alive in their quest for a second individual championship. That duo is Mason Kauffman at 152 and Tyson Kauffman at 285.
Brock Schlough of Boyceville, last year's champion at 138, and Bradon Roen of Riverdale, the winner a year ago at 152, appear to be on a collision course to meet in the finals at 160. Helton Vandenbush of Random Lake is also still in contention for the title at 170.
Schoenherr and Mason Kauffman are the only two remaining undefeated wrestlers in Division 3 this year.
The semifinals begin Friday at 7 p.m. with the doors opening at 5:30 p.m.