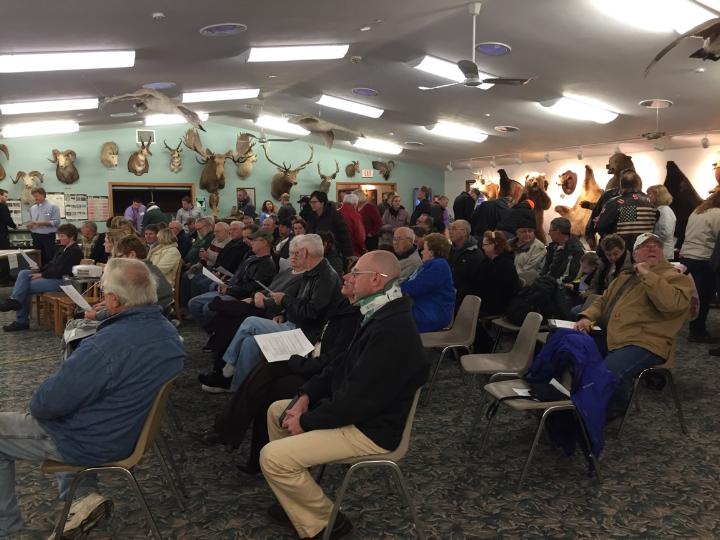 By Carrie Forster
Kaukauna Community News
KAUKAUNA — Residents who stand to lose parts of their property to the County Highway ZZ reconstruction project expressed their frustration Wednesday to local officials at an informational meeting at 1000 Islands Environmental Center.
A standing-room-only crowd of more than 150 people gathered to hear about the project that begins with closing the County Highway Z/County Highway ZZ intersection and continues on ZZ up to the Brown County line.
The first phase of the project is expected to begin in 2017.
Dean Steingraber, Outagamie County highway commission, presented details of the project, which county officials say will improve safety. An aerial view and detailed maps were set up at tables around the room so that residents impacted by the project could ask specific questions about their property.
Mike Kohlbeck, lead engineer from McMahon Engineering, hired by the county to create the plan, said the project involved widening the road (including wider, paved shoulders), straightening curves and lessening elevation changes.
It closes a portion of County Highway ZZ down the big hill to County Highway Z. County Highway ZZ would be rerouted at the Haas Road intersection where it would merge with County Highway Z. County Highway ZZ then would terminate in a cul-de-sac at Woodly Road. The closed portion of ZZ would be removed. The county is considering creating a recreational path on the closed portion of ZZ.
Property owners who will lose property to the project voiced concerns about the property loss. Several people brought up concerns that the changes to the road will encourage drivers to drive recklessly and above the speed limit.
County officials and McMahon representatives said that the stretch of ZZ involved in the project has an accident rate more than four times higher than other county roads, making it one of the most unsafe stretches of road in the county.
At the end of the large group discussion, where many in attendance expressed frustration over the project, county representatives and McMahon Associates remained to discuss specific concerns with individuals.
Attendees also included Kaukauna Mayor Gene Rosin from Kaukauna, Joel Gregozeski, town administrator from Buchanan, as well as other city of Kaukauna and town of Buchanan officials.
The county will begin talking to affected property owners during the spring and summer about purchasing the necessary portions of their property.
To see more information about the project, visit the Outagamie County website HERE.
For more information, please contact Andy Rowell, Highway Engineer for Outagamie County at Andy.Rowell@outagamie.org or Mike Kohlbeck, Project Engineer, McMahon at mkohlbeck@mcmgrp.com.