KAUKAUNA — Friday kicks off two busy days of music at the 2022 Electric City Experience music festival in Kaukauna.
The festival in downtown Kaukauna began Wednesday and continues through Saturday, June 11, 2022, featuring live music from more than 50 bands and solo artists, five outdoor live music stages, food trucks along with carnival rides and games.
Friday and Saturday June 10 & 11
** 5 Outdoor Live Music Stages
** Electric City Experience Live Music Schedule
** Electric City Food Truck Plaza presented by Midwest Carriers
** Carnival Rides & Games
This is a homegrown music festival, with the goal of introducing you to artists you can go out and support throughout the year at local venues in the Fox Cities and surrounding communities.
---
Sponsored post

Don't miss out on these great ribeyes! Check out the latest flyer from our Kaukauna or Little Chute stores. Download it here: KaukaunaCommunityNews.com/pig-flyer.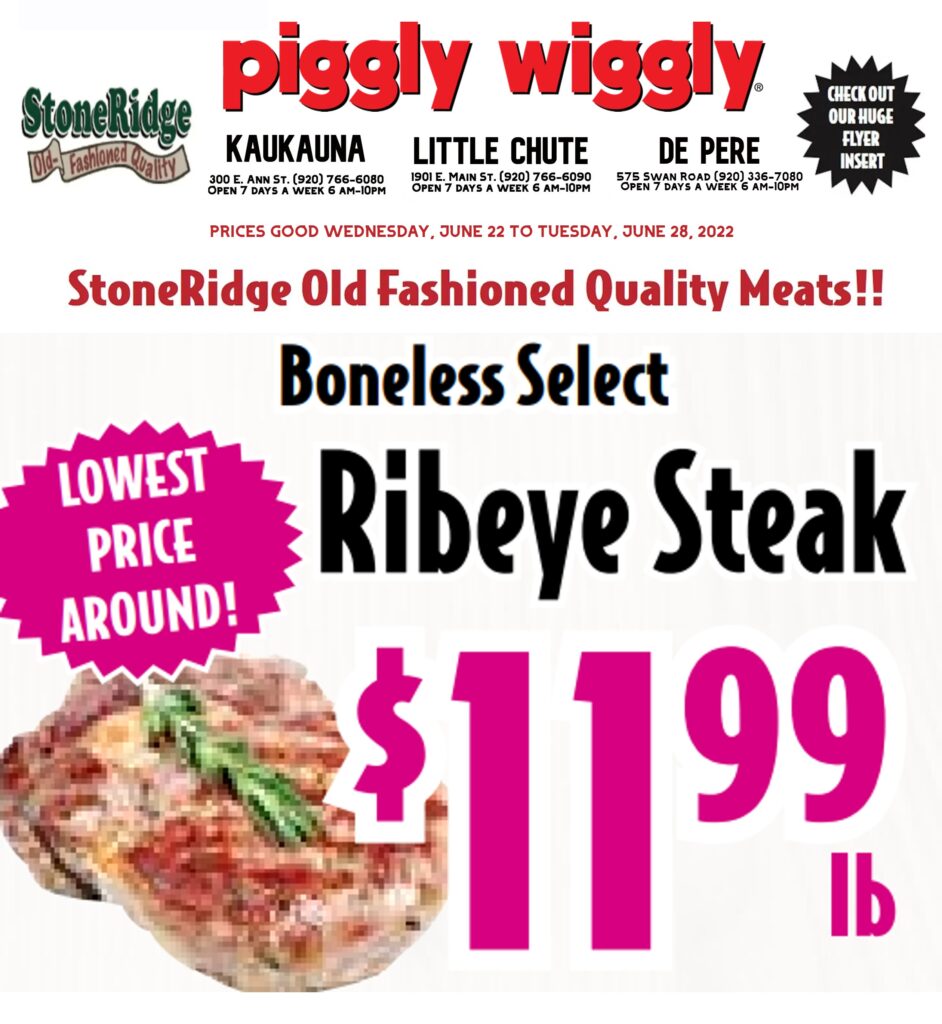 ---
Music lineup
FRIDAY, JUNE 10
Abel Insurance Main Stage:
5:00pm Brent Bel & the Boys
6:30pm Homemade Brew
8:00pm Tom Thiel Trio
9:30pm Kyle Megna & the Monsoons
Mad City Windows & Baths Carnival Stage: WIJAM Showcase
5:00pm Appleton Rock School
6:30pm Disconopse
8:00pm Pogasis
9:30pm Ifdakar
St. Paul Elder Services Park Stage:
5:30pm The Anna Bartlett Band
7.00pm Sly Joe & the Smooth Operators
8:30pm Leading the Blind
10:00pm A-Town Unplugged
Bernatello's Foods Cafe Stage:
5:00pm Biscuit Creek Lite
6:00pm Eric Krueger
7:00pm Elizabeth Lamine & Amelia Grace
8:00pm Sam Gauthier
9:00pm Holly Blue
Stone Arch Brewpub Sessions Stage:
5:00pm Kevin Huss & the Third Class Minstrels
6:00pm Chris Rugowski
7:00pm Marty Paschke & Eric Krueger
8:00pm Strategic
9:00pm Soul Revival
SATURDAY, JUNE 11
Abel Insurance Main Stage:
2:30pm Appleton Rock School
5:00pm Substyle
6:30pm Burnt Toast & Jam
8:00pm Erin Krebs Quintet
9:30pm Unity the Band
Mad City Windows & Baths Carnival Stage:
3:30pm Black Domino
5:00pm Luma Knotty
6:30pm Jeremiah Joms Band
8:00pm More Then Merry
9:30pm Ill Genesi
St. Paul Elder Services Park Stage:
4:00pm Horace Greene
5:30pm The Lately
7:00pm Blues Talk
8:30pm Bod Haji
10:00pm Sheamus Fitzpatrick & the McNally Boys
Bernatello's Foods Cafe Stage:
3:00pm Collisto Verhalen
4:00pm Walt Hamburger
5:00pm Michael Grabner
6:00pm Joe Sly
7:00pm Tom Thiel
8:00pm Parker Collar
9:00pm Amelia Ford
Stone Arch Brewpub Sessions Stage:
3:00pm Hailey Jacobson
4:00pm Drew Hicks & Friends
5:00pm Barefoot Americans
6:00pm Janet Planet & Tom Theabo
7:00pm Amelia Grace
8:00pm Lilie
9:00pm Brett Von Drasek
.
.