MADISON — The Kaukauna Ghosts' softball team lived up to its No. 1 seeding Thursday, defeating Oshkosh West 7-1 in a WIAA Division 1 quarterfinal game at Goodman Field in Madison.
Freshman Karly Meredeth, the Fox Valley Association player of the year, had 2 RBI and gave up one hit in relief of starter Skyler Calmes who recorded the win. Lilly Roehrig also had 2 RBI.
The turning point came early in the game when West loaded the bases twice on Ghosts in the second, but Calmes got out of the jam allowing only one run in the inning. Oshkosh West wouldn't score again.
"Anytime you can shift momentum like that, you definitely gain the advantage," Head Coach Tim Roehrig said after the game.
There were several big momentum shifts in the game, and getting out of the second inning jam was one of them.
"Even though they scored, it's like hey, we're good," Roehrig said. "If you hold a team to one run, we're fine."
The defense seemed to spark the Ghosts in their half of the second, scoring three and never looking back.
Taryn Christopher and Haylie Wittman each had one RBI. Kally Meredith scored twice, while Ava VanAsten, Karly Meredith, Christopher, Chloe Hertzfeld and Keanna Jansen each scored once.
Kaukauna is back in action Friday at 9 p.m. in the Division 1 semifinal where they will face Superior, a 10-0 winner over Cedarburg.
Sign up HERE for emailed results as the Ghosts make their way through the tournament.
---
Sponsored post

Don't miss out on these great ribeyes! Check out the latest flyer from our Kaukauna or Little Chute stores. Download it here: KaukaunaCommunityNews.com/pig-flyer.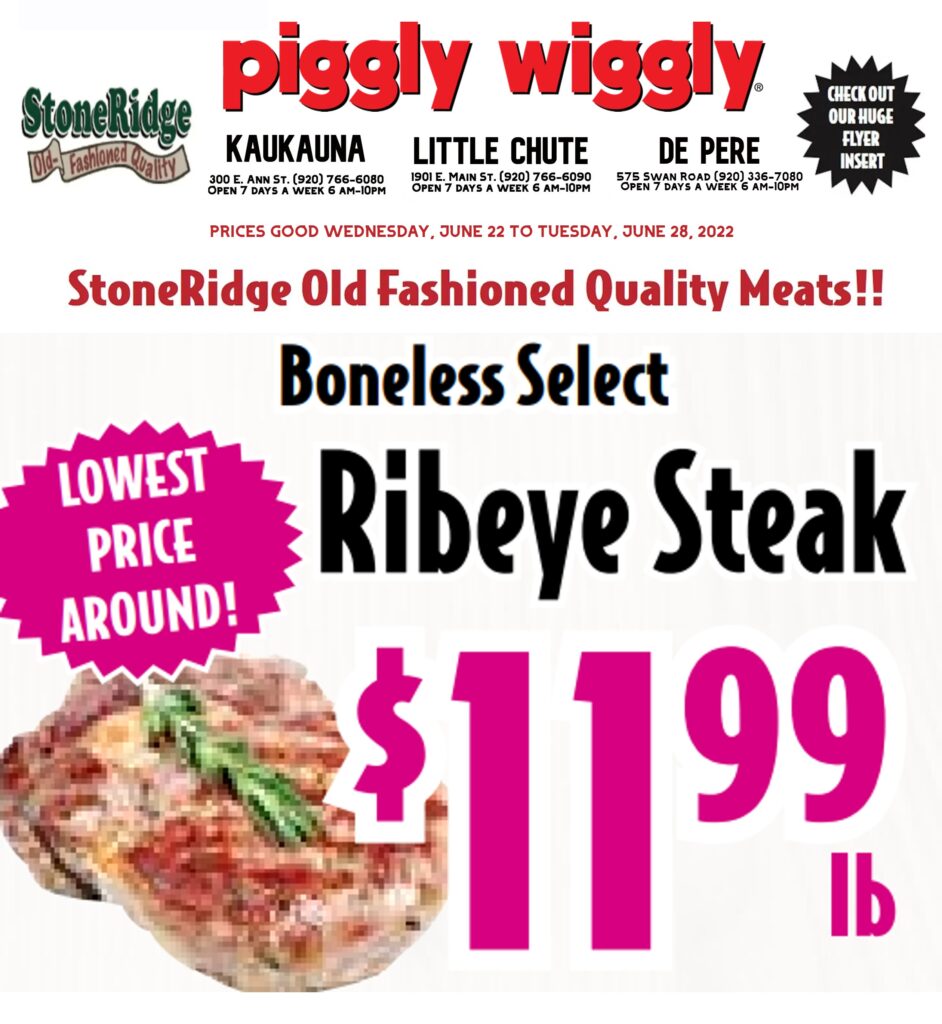 ---
The team includes:
00 Carly VerVoort, Senior Outfielder
1 Karly Meredith, Freshman Pitcher/2nd Base
3 Haylie Wittman, Senior Short stop (UW-Oshkosh Commit)
9 Skyler Calmes, Senior Pitcher (Winona State Commit)
12 Paige Miller, Junior 3rd Base ( Ohio State Verbal Commit for Volleyball)
14 Madisen Gries, Senior outfielder
16 Ava VanAsten, Senior Left Fielder (Bryant & Stratton College Commit)
17 Kally Meredith, Junior Center Fielder ( Florida International University Verbal Commit)
19 Chloe Hertzfeldt, Freshman 2nd Base
20 Addison Race, Senior (St. Norbert College Commit)
22 Taryn Christopher, Sophomore First Base
23 Keanna Jansen, Senior Outfielder
26 Anna LaCount, Senior Catcher (Minot State University Commit)
27 Ava Bloch, Junior Catcher
29 Karlee DeGroot IF 10
30 Makenna DeValk, Senior Catcher
31 Hailie Peters, Junior Outfielder
35 Summer Schmidt, Freshman outfielder
36 Lilly Roehrig, Junior Designated Hitter

The team is coached by Tim Roehrig with assistant coaches Bill Huss, Mark Hertzfeldt and Steve Meredith.
Division 1
Quarterfinals – Thursday, June 9
Game-1: #2 Sun Prairie (27-1) vs. #7 Milton (22-8) – 8 a.m.
Game-2: #3 Oak Creek (21-3) vs. #6 Hamilton (19-6) – 10 a.m.*
Game-3: #1 Kaukauna (28-0) vs. #8 Oshkosh West (19-11) – Noon*
Game-4: #4 Cedarburg (24-4) vs. #5 Superior (18-2) – 2 p.m.*
Semifinals – Friday, June 10
Game-5: Winner of Game 1 vs. Winner of Game 2 – 7 p.m.
Game-6: Winner of Game 3 vs. Winner of Game 4 – 9 p.m.*
Championship – Saturday, June 11
Game-7: Winner of Game 5 vs. Winner of Game 6 – 6:30 p.m.*
.
.