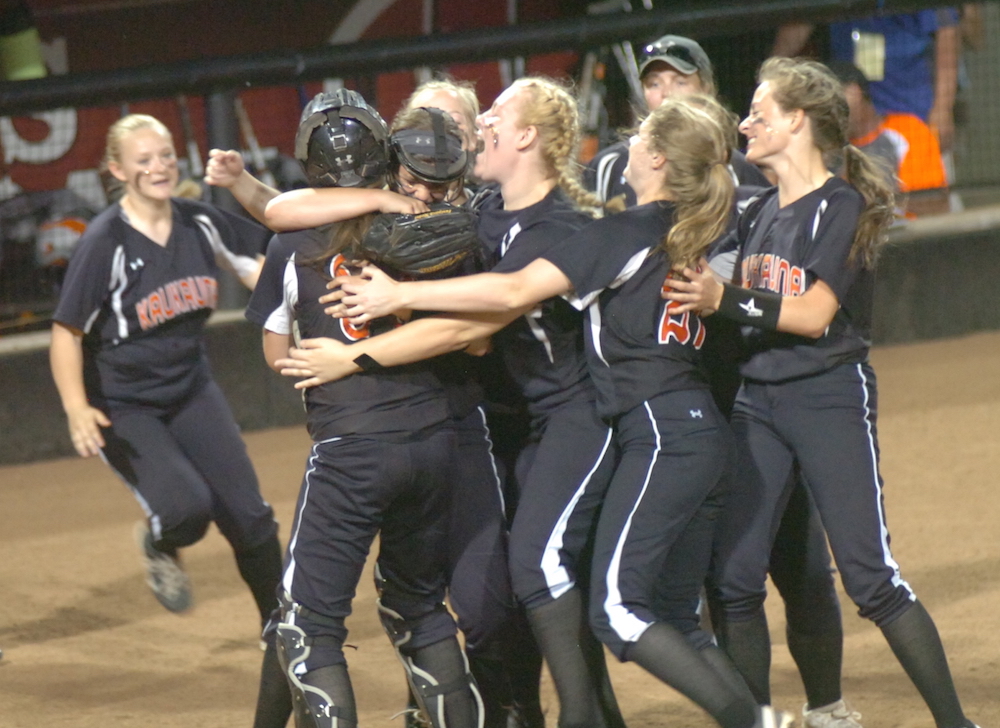 KAUKAUNA — Six years of post-season frustration were quickly erased when the 2017 Galloping Ghosts softball team claimed the WIAA Division 1 state softball title this evening on Goodman Diamond in Madison.
Kaukauna capped off a stellar season June 10, 2017 with a 3-1 win over Wilmot for the school's second state softball title.
This year's seniors — Megan Huss, Brittany Handrich, Rachel Ashauer, Taylor Plate, Haley Hestekin and Leah Binsfeld were in fifth grade that last time Kaukauna made it to the state tournament. That was in 2010, and the Ghosts won it all in their one and only state appearance to that point.
The rest of this year's team — Ally Isselmann, Sidney Miller, Meghan Gonnering, Lauren Steffes, Ahsley Fauske, Michaela Meehl, Trisha VanHandel, Hanna Hestekin, Taylor Kuski, Anna Bauer, Aubery Blair and Amber Verkuilen also were well into their grade school careers dreaming of one day making it to Madison.
(Photo gallery: Semifinal win over Stevens Point.)
So the past three days in Madison were the result of years of dreams and hard work.
The Ghost exorcised some demons along the way.
Making it to state, for example. Every season since 2010, the Ghosts' season ended at sectionals.
This year, not only did Kaukauna made it to state, but the team faced conference foe Oshkosh North in the quarterfinal, the only team that had beaten the Ghosts — they did it twice — during the regular season.
A 2-0 win advanced Kaukauna to Friday's semifinal, where pitcher Haley Hestekin, who will return to Goodman Diamond next season as a member of the Badger softball team, nearly pulled off a no-hitter on the team's way to a 3-0 victory.
The championship game had all the drama that an all-on-the-line game should have.
The scoring drought for opposing teams in the state tournament ended quickly in the first, when Kallyssa Koehn doubled to left center to score Haley Lamberson, putting Wilmot up 1-0. But Kaukauna came back in the bottom of the first with a Sidney Miller triple. Miller would then score on an error, tying the game after one.
Kaukauna took the lead in the third when Megan Huss scored Taylor  Kuske double, putting the Ghosts up 2-1.
In the fifth, Megan Huss scored on a wild pitch, pushing the lead to 3-1, which was more than enough to seal the deal.
Here's the final play of Kaukauna's championship 2017 season #hsswi pic.twitter.com/AsdEmOQiWo

— Ricardo Arguello (@PCRicardo) June 11, 2017