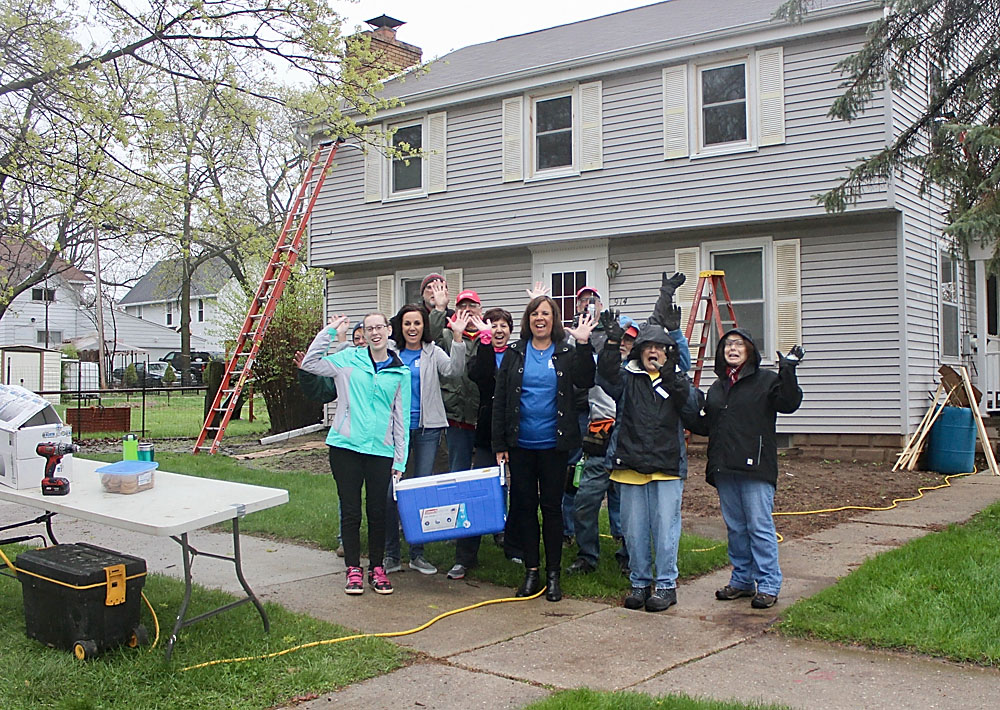 KAUKAUNA – Volunteers braved the gloomy weather today to begin work on four residential projects and one community project as the Greater Fox Cities Area Habitat for Humanity's Rock the Block got underway in Kaukauna.
Volunteers will spend the week doing home-improvement projects in the Fassbender Park neighborhood on Kaukauna's near south side.
"We have five projects going on today including four residential projects and one community project at 1,000 Islands," wrote Vaya Kiel, Communications Specialist at Fox Cities Habitat for Humanity in an email. "Just three of the projects today together will be have over 30 windows replaced."
Kaukauna's Rock the Block will run through Saturday, May 6, 2017, and organizers are looking for more volunteers, especially Saturday.
Contact Volunteer Services Manager, Jodi Isom, at 920-967-8882 or via email at Jodii@FoxCitiesHabitat.org.
Kiel said volunteers will tackle 29 projects (19 residential and 10 community), with police/fire/municipality teams coming out to build, deliver snacks and support the efforts.
KHS band and choirs will perform Saturday with art students doing picnic table projects throughout the week.
Kaukauna businesses and community groups are providing lunches and snacks.
Beginning at noon Saturday, organizers will have van tours of the neighborhood with before and after photos. The public is invited to join in on a tour for free.
Rock the Block events showcase Habitat's Neighborhood Revitalization program, which brings people together to improve the quality of life in targeted neighborhoods, according to a news release.
Beyond the Rock the Block event, residents in targeted neighborhoods will also be given access to Habitat's home repair program providing critical home repairs, weatherization and larger-scale home preservation work.