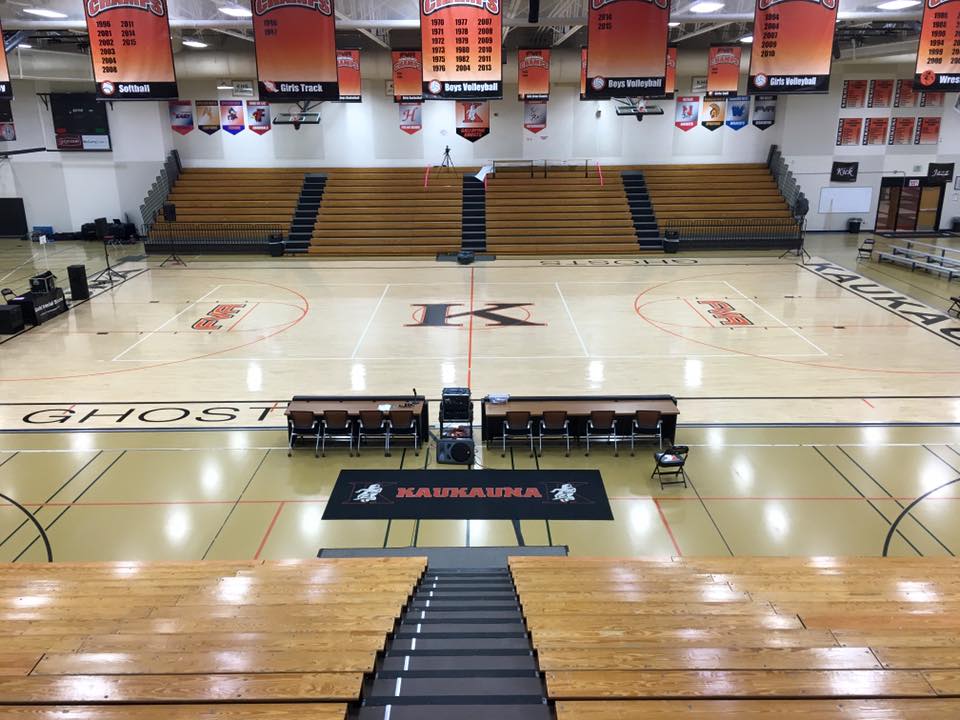 STEVENS POINT – A move to allow students of virtual high schools to participate in sports in their community's high school was shot down at the annual WIAA meeting April 26, 2017 in Stevens Point.
Other motions of note included passage of a rule that would exempt athletes from a code of conduct violations for reporting and assisting victims and witnesses of sexual assault. The motion aligns the WIAA with current state law.
The new rules will become effective upon publication of the next issue of the Bulletin, which is scheduled for May 26, 2017.
In all, five major proposals were voted on. From the WIAA news release:
The membership voted 391-3 in favor of the amendment that permanently removes fees and dues for membership in the association. The Board authorized a temporary suspension of fees and dues in 2015-16 and 2016-17. The amendment also stipulates that the Board of Control retains the authority to levy proportionate fees in the event of an emergency. Those assessments would be sufficient to meet the identified crisis to sustain operations and services of the organization.
The assembly of members also ratified a provision that clarifies and expands conference realignment penalties. Schools in football-only conferences that voluntarily withdraw from their league will now be removed from conference schedules in all sports sponsored by the school for two years in addition to the existing four-year ban on participation in the football playoffs. The membership approved the amendment by a 332-57 vote.
One of the amendments contained in the membership Bylaws received approval by a 391-3 margin. The change establishes a uniform date to distribute protective equipment for summertime use. All schools, with approval of their governing administration, may issue protective equipment on the Friday prior to Memorial Day.
Two amendments related to the membership's Rules of Eligibility were voted into rules. The first significantly alters the Amateur Status provisions. The former list of allowed and prohibited awards will be removed and replaced with a dollar value of rewards or momentos. Student-athletes will be permitted to receive keepsakes issued by the school that does not exceed $200 in fair market value. In addition, any award for athletics participation, honors or recognition that doesn't exceed $100 in fair market value will now be allowed. Furthermore, student-athletes will now be able to retain items of apparel that are worn as part of a team uniform in nonschool athletic competitions. The provision was passed by a 382-6 membership vote.
The second amendment passed in the Rules of Eligibility, by a nearly unanimous 398-1 count, brings the WIAA Code of Conduct section in line with state statutes. It provides relief from a code of conduct violation for victims and witnesses of sexual assault who report the crime by calling 9-1-1, request emergency assistance, cooperate with law enforcement either at the scene or at a medical facility, and meet the state amnesty law requirements.
An amendment that was defeated by a 334-52 vote is also noteworthy. The proposal would have permitted public schools to use full-time, open-enrolled students of any virtual school–who meet the residence rule and whose parents reside in the public school's attendance boundary–on that public school's teams with the caveat the virtual school meets Wisconsin Department of Public Instruction standards.
The editorial changes, which are attempts to clarify existing rules without making changes in the interpretations of the rules, passed 391-7.
In the New Business portion of the Director's Report, the membership was apprised of a number of topics for continued discussions, including recruitment of new licensed officials, revisiting a district plan for football, reviewing requirements for new member applications and an all-school membership survey on competitive equity.
In the 2017-18 Board of Control elections, Dennis Birr, superintendent at New Lisbon, will join the Board as the District 3 representative. Eric Coleman, student services supervisor of Milwaukee Public Schools, was elected to a second term as the ethnic at-large representative. The District 4 representative position on the Board will require a run-off election. Scott Bleck, district administrator at Weyauwega-Fremont, and Dave Steavpack, director of athletics at Manitowoc Lincoln tied in the intitial election. Elected members of the Board of Control serve a three-year term.
Brian Schlei, assistant principal and athletic director at Waukesha North, and Bart Boettcher, associate principal and athletic director at Menomonie, were elected to the Advisory Council representing large schools. Ty Breitlow, principal at Chilton, was re-elected as a medium school representative, and Terrance Slack, district administrator at Wisconsin Dells, joins the Council for his first term representing medium schools. Mark Gruen, district administrator at Royall, was re-elected as a small school representative, and Mark Holzman, superintendent at Manitowoc Lincoln, returns for a second term in the ethnic minority at-large position.
Special presentations by Bob Andrews and Michael Saxby, who are survivors of sudden cardiac arrest experienced during interscholastic competitions within the last year, addressed the importance of having assessible AEDs in schools. James Maxwell of Dissinger Reed, LLC also addressed the membership with a presentation on the HeadStrong Concussion Insurance program, which will provide concussion insurance to all student-athletes in member junior and senior high schools beginning Aug. 1, 2017.
A total of 475 representatives from 407 schools attended the 2017 Annual Meeting. The WIAA oversees interscholastic athletic programs for 511 senior high schools and 38 junior high/middle level schools in its membership. It sponsors 27 championship tournament series. For more information, please contact the WIAA office at (715) 344-8580.