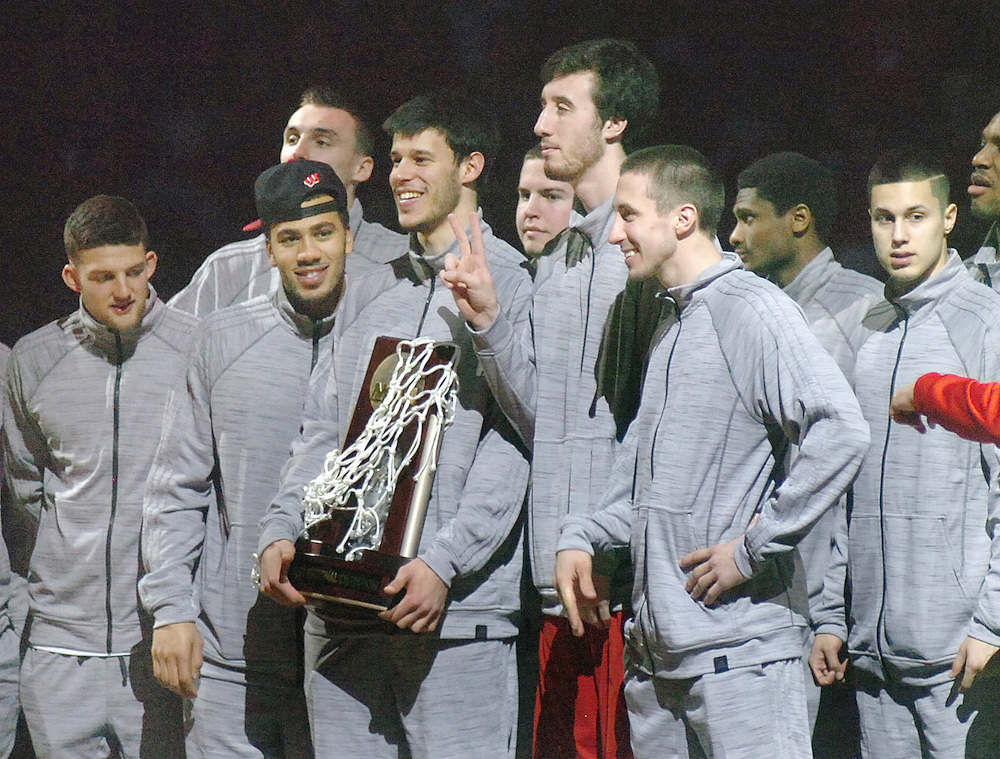 UPDATE — Zak Showalter won't be in the lineup, but there still will be plenty of great basketball.
We'd love to have him at Holy Cross, but we're wishing @ZShowbball333 the best of luck this weekend at the 2017 USA Basketball Men's 3×3!! 🏀

— Holy Cross Mens Open (@hcmensopen) April 7, 2017
KAUKAUNA — Some of the top amateur basketball players in the Midwest will return the Carl Giordana Gym at Holy Cross Parish this weekend for the final rounds of the 49th annual open men's basketball tournament.
And some well-known names are expected to attend.
Former Badgers Zak Showalter, Ben Brust and Mike Wilkinson are on rosters entered in the tournament.
So are Turner Botz and Kenneth Lowe of UW-Green Bay, Ty Sabin of Ripon, Levon Crawford of UW-Platteville, and Anthony Moody of the University of Mary.
Showalter's team, BSN Sports, the defending tournament champion, faces the Milwaukee Swing at 7:30 p.m. Friday, April 7, 2017.
Showalter, you may remember, made the off-balance three-point shot that sent the Badgers into overtime against Florida in their NCAA tournament sweet 16 game.
Showalter famously flashed his own imaginary championship belt to Packers' quarterback Aaron Rodgers, who was at the game.
The Badgers season ended soon after on an equally improbably three-point shot by Florida's Chris Choizza that gave the Gators an 84-83 win.
Weekend matchups:
Friday, April 7, 2017, 7:30 p.m.: Milwaukee Swing vs. BSN Sports.
Friday, April 7, 2017, 8:45 p.m.: D.P.M.'s vs. Team Grayslake
Saturday, April 8, 1 p.m.: The McMahon Group Neenah vs. Christinano's Pizza Oshkosh
Saturday, April 8, 2;15 p.m.: Team Elite Wellington, Florida vs. Schmitty's Tickets Combined Locks
Saturday, April 8, 6 p.m.: Hurley Insurance vs. Weiner Investment Services 1.
Round two games are Friday and Saturday evening, April 7-8, 2017.
Semifinals are Sunday April 9.
The championship game will be at 7:15 p.m. Sunday, April 9, 2017.
Showalter has a long history with the tournament. His father, Steve, who coached Zak at Germantown and is the current boys' basketball coach at Menomonee Falls, played in the Holy Cross tournament for almost two decades and is a two-time tourney MVP who has scored more than 750 Holy Cross points, according to the Post-Crescent.
Zak Showalter had been coming to Holy Cross since he was a kid to see his father play.
Even as this year's tournament get underway, plans already are in the works for next year's 50th anniversary event, according to longtime tournament director Lee Vander Sanden.
"There are countless hours spent on every facet of this tournament, and as I have stated in the past – this is much, much more than just basketball," Vander Sanden wrote on the tournament website. "After many years as your Tournament Director, I have had the pleasure of meeting and working alongside some of the finest people around. This is truly an awesome experience as each year has been and will continue to be unique in its own way."