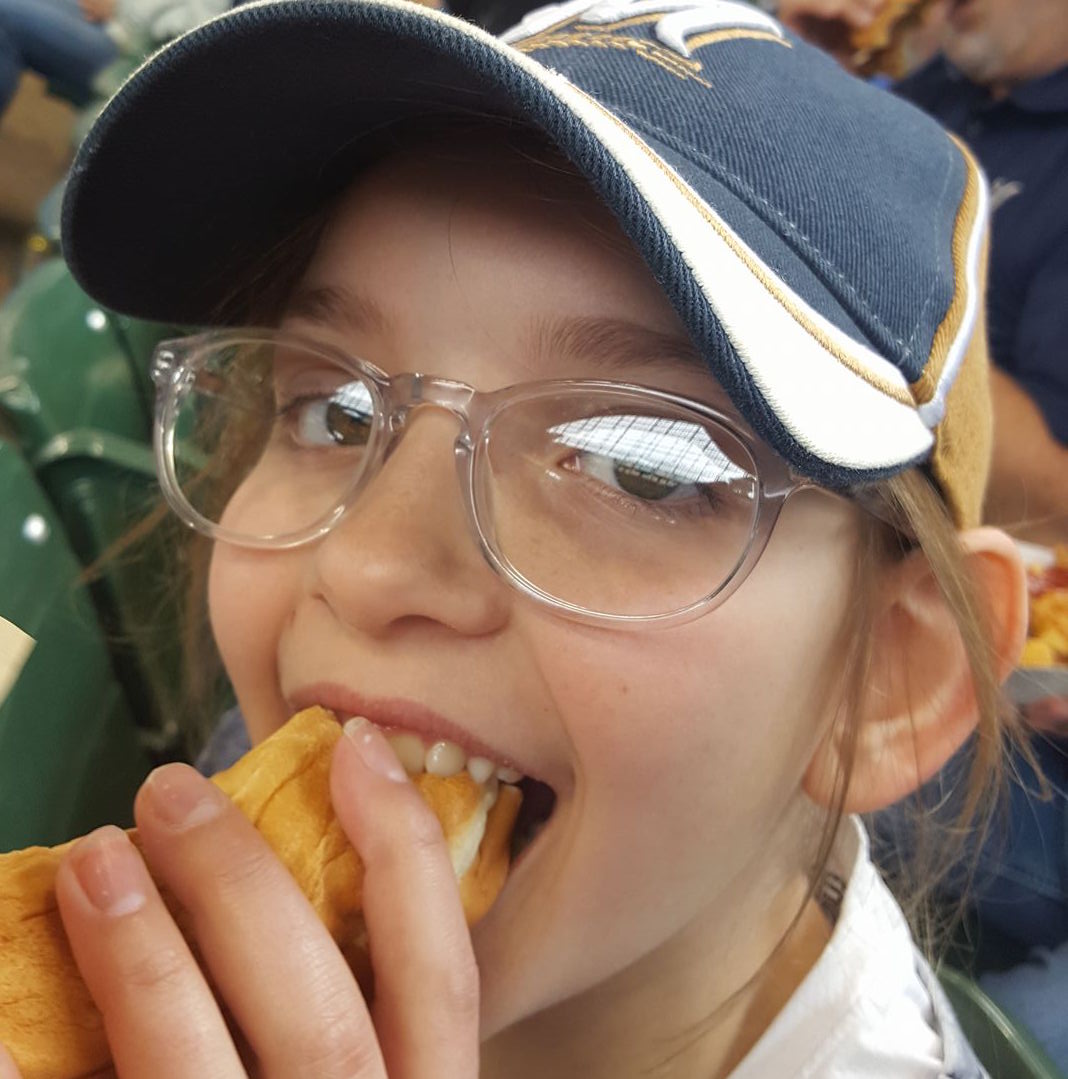 MILWAUKEE — The Milwaukee Brewer's famous racing sausages took to the the streets of Milwaukee on opening day, where they ran a relay race to deliver the first brat to Miller Park.
Little did Maitea Gerrits of Kaukauna know that the first brat would eventually make its way to her.
Gerrits, a fifth grader at River View Middle School, attended the home opener April 3, 2017, with her father, Craig. She was chosen at random to receive the brat, according to her father.
She was escorted down to the field where she was presented with the brat as the Brewers lined up on front of her for the National Anthem.
The racing sausages were taking part in the 11th Annual Klement's opening day brat relay. The Klement's Famous Racing Sausages then delivered the brat into the stadium and eventually to Gerrits.
The relay race was streamed live on Facbook, with Milwaukee TV stations covering from their helicopters in the air.
The Brewers ended up losing the April 3, 2017 game 7-5 to the Colorado Rockies.
Starting pitcher Junior Guerra suffered a right calf strain running to first base on a sacrifice bunt in the third inning.
The Brewers have more promotions this weekend:
Friday, April 5 vs. Arizona Diamondbacks, 7:10 p.m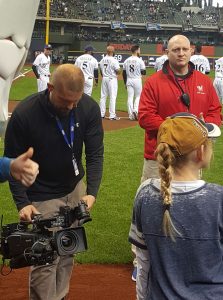 · Time Warner Cable Student Night: College and high school students can purchase $9 Terrace Reserved and $11.50 Loge Bleacher tickets (Excluding Miller Lite Beerpen) courtesy of Time Warner Cable. The first 250 students to purchase tickets in the Time Warner Cable Student Nights Section (Section 233) will receive a free t-shirt. For more information, visit brewers.com/students.
· $15 Fair Fridays: For $15, fans can purchase a Fair Friday package that includes one Terrace Reserved ticket and one general admission ticket to the Wisconsin State Fair presented by U.S Cellular. For more information, visit brewers.com/statefair.
· Miller Lite Beerpen: All fans 21 and older can be a part of the Miller Lite Beerpen in the Right Field Loge Bleachers. Tickets are $23 and include a Brewers t-shirt and special entertainment in the Miller Lite Beerpen. For more information, visit brewers.com/beerpen.
Saturday, April 6 vs. Arizona Diamondbacks, 6:10 p.m.
· Potawatomi Bingo Casino Brewers Pen Schedule: All fans will receive a 2013 Brewers Pen Schedule presented by Potawatomi Bingo Casino.
Sunday, April 7 vs. Arizona Diamondbacks, 1:10 p.m.
· Norichika Aoki Bobblehead presented by Robert Haack Diamonds: All fans will receive a Bobblehead featuring Brewers outfielder Norichika Aoki, presented by Robert Haack Diamonds.
· Blue Bunny Ice Cream Sunday: The first 2,000 fans 12 and under will receive a voucher redeemable for a free Blue Bunny Ice Cream treat upon entering Miller Park. The vouchers are redeemable from the time gates open through the end of the first inning of the game.