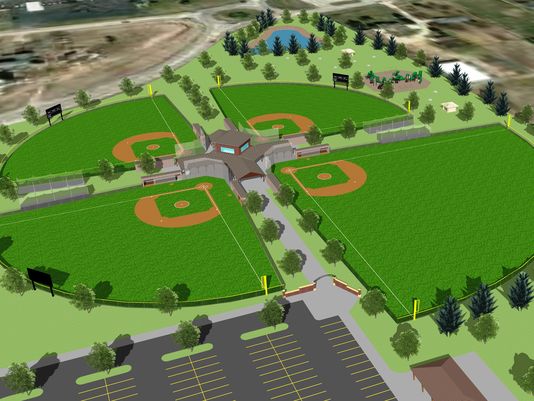 HARRISON — Kaukauna Youth Baseball and the village of Harrison have apparently hammered out a deal to build a youth baseball complex, which led to a post on the city's website expressing disappointment.
The city now will begin exploring the creation of its own  youth baseball program.
The $3 million, four-diamond baseball complex would be built on vacant land at the southeast corner of Wisconsin Highway 55 and County Highway KK.
The privately funded development would encompass 18 to 20 acres and feature three diamonds for Little League and one larger diamond for American Legion Baseball, according to a Post-Crescent story.
A post from Tuesday, March 7, 2017 on the city of Kaukauna website expressed frustration with the decision. Mayor Gene Rosin was notified Friday, March 3, 2017, according to the post.
Approval of the plan was on the agenda for the Feb. 28, 2017 village of Harrison board meeting.
Prior to the decision, the city had been working for several months with the Kaukauna Area School District and Kaukauna Youth Baseball to locate the proposed baseball complex in the city, according to the post on the city's website.
The post continued:
The City of Kaukauna has a long history of support for Kaukauna Youth Baseball and owns and maintains numerous facilities in the City for use by the organization.   The City prides itself in being a full service community and its ability to provide its residents with a full spectrum of services.  The City is disappointed that KYB has chosen to locate the proposed baseball complex outside of the service areas for Kaukauna Utilities, Kaukauna Police Department, Kaukauna Recreation Department, Kaukauna Park Department, and the full time Kaukauna Fire and Ambulance service.

As a full service community, the City also operates numerous recreational opportunities through its Recreation Department.  The City will begin investigating the possibility of developing a recreational youth baseball program in 2018 that is not affiliated with any state or national program.  It is hoped that the recreational based program would provide community based baseball opportunities to the youth of the Kaukauna area and complement the various other youth programs offered by the City.
The village of Harrison Park Committee on Feb. 7, 2017, forwarded to the full board a proposal to provide 10-year $450,000 loan to Kaukauna Youth Baseball for land acquisition. The loan would be repaid by raising park impact fees to $1,054 for a single family home and $977 per multiple family dwelling, according to meeting minutes.