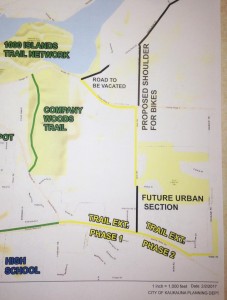 KAUKAUNA — A proposal  extend the CE trail to Haas Road apparently is back on the drawing board and may be included in the 2018 capital projects budget.
The fast pace of growth in the surrounding neighborhoods is what has city officials rethinking the project.
Bob Jakel, city of Kaukauna planning director, told WHBY radio that the city is looking to build further east, from Loderbauer Road to Haas Road.
The trail eventually could extend along Haas Road, north to Highway ZZ, Jakel said. The city then could put bike lanes on Highway ZZ, leading into the 1,000 Islands area. That would provide a loop from downtown Appleton into downtown Kaukauna.
The 5.3-mile trail currently runs from Appleton to Kaukauna along the north side of County Highway CE. It ends at Loderbauer Road, next to Kaukauna High School.
Cost, however, might be a factor in the final decision. Kaukauna studied the project about 10 years ago and found that the 0.8-mile extension would have cost more than $1 million because of complicating issues like wetlands and utilities.