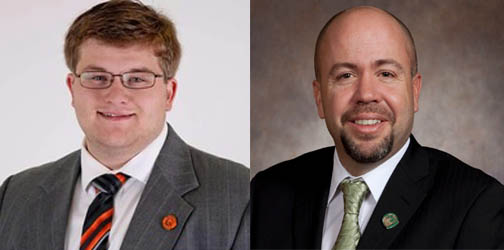 KAUKAUNA — Incumbent Republican Jim Steineke and Democrat Sam Kelly, a Kaukauna School Board member, are running for the 5th Assembly District in the Nov. 8, 2016 election.
The Post-Crescent recently published letters by the candidates where they explained why voters should choose them on Election Day.
"There is no denying that everyday people like you and I have been squeezed by the policies of my opponent, but most people don't even know who he is," Kelly wrote in his letter."He has been in office for the better part of six years, and the fact that so many in the district could not point him out or even recognize his name is a major flaw in representation on his part. This is one of many differences between he and I."
Steineke says he wants to build on what he has started.
"I completely understand why they're disillusioned. The politics are divisive, destructive and run counter to the American principle that we're all in this together, that we're all supposed to be on the same side. We deserve better than what we're getting," Steineke wrote.
"Discouraging to be sure. But before you lose hope, look to the states. Washington may be a mess, but here at home, Wisconsin is working again."
Steineke currently is serving as the Assembly Majority Leader and has represented the 5th District for nearly six years.
Read his letter HERE.
Kelly of Kaukauna is a Kaukauna School Board member and student at St. Norbert College in De Pere.
Read his letter HERE.