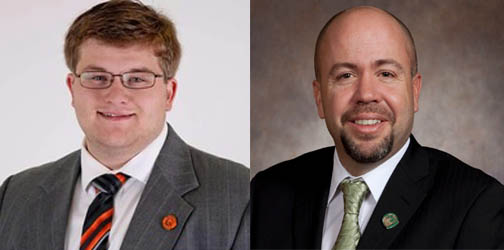 APPLETON — Assembly candidates Jim Steineke, the incumbent Republican from Kaukauna, and Sam Kelly, currently a Kaukauna School Board member running as a Democrat, will share their vision for public education in Wisconsin at an upcoming forum in Appleton.
Although the presidential race will be the top ticket on the Nov. 8, 2016 election ballot, state Assembly races likely will have the greatest ongoing impact on the lives of Wisconsinites.
The League of Women Voters, American Association of University Women and Fox Cities Advocates for Public Education will host the forum from 7 p.m. to 8:30 p.m. Oct. 6, 2016 at Einsten Middle School, 324 E Florida Ave., Appleton.
In the moderated, question and answer session, candidates will have a chance to explain their views on public education.
Other candidates invited include:
Senate District 2: John Powers and Robert Cowles.
Assembly District 3: Sharon Wasileski and Ron Tusler
Assembly District 55: Bob Baker and MIke Rohrkaste
Assembly District 56: Mariana Stout and Dave Murphy
Note, according to organizers:
Ron Tusler will not attend due to a scheduling conflict, but has a written statement to be read.
Robert Cowles has not yet responded to the invitation.