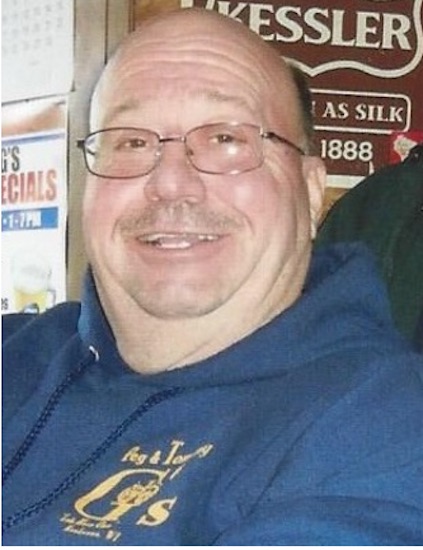 KAUKAUNA — A memorial service for Tom "Tommy G" Giordana has been set for 1 p.m. Friday, May 13, 2016 at Holy Cross Catholic Church.
Visitation begins at 10 a.m. at the church, located at 309 Desnoyer St., Kaukauna.
Giordana died Tuesday, May 3, 2016 at the age of 63.
He and his wife, Peg, were longtime owners of Peg & Tommy G's bar. He also was a board member of the Outagamie County Tavern League.
His obituary from Boetcher Family Funeral Home:
Thomas J. Giordana, "Tommy G",age 63, of Kaukauna, passed away peacefully on Tuesday, May 3, 2016. He was born on June 10, 1952 to Joseph and LaDonna (Steinbach) Giordana in Appleton. He graduated from Kaukauna High School in 1971 where he excelled in many sports. He married his high school sweetheart Peg Ott. Tommy attended Fox Valley Technical College for two years where he obtained an Associate's Degree in Business. He was the proud owner of Peg & Tommy G's bar for 35 years, during which time he made many lifelong friends. He was a board member of the Outagamie County Tavern League.
Anyone who knew Tommy, knew he was a people person who enjoyed talking about anything, except during the Packer games. He enjoyed spending time at his cottage in Lakewood where he would watch nature and take in its beauty around the campfire. Tommy would give the shirt off of his back to anyone who needed it and would always lend an ear. Family meant everything to Tommy, and he always went out of his way to make sure they were taken care of.
He is survived by his wife, Peg; his mother LaDonna Giordana; his brothers: Bill, Rodney (Jane), and Dan Giordana; his sisters: Cathy (Nick) Fink, Jodi (Ron) Holmgren, Beth (Bruce) Benotch, and Sue (Tim) Vanevenhoven; his mother-in-law Helen Krasniewski; brothers-in-law: Ron (Bonnie) Ott and Terry (Laura) Ott; sisters-in-law: Patti Christopherson, Kathy Weber, Tammy (Harv) Siebers and Karen Ott; god-children: Alex Benotch and Maggie Fink; his cats: Vinnie and Vino; and many nieces, nephews, other relatives and friends. He is preceded in death by his father Joseph Giordana; father-in-law Kenneth Ott; brothers-in-law: Thomas Ott, Michael Ott, James Christopherson, Edmund Weber; and sister-in-law Carla Ott.
Memorial services for Tommy will be held at 1:00 p.m. on Friday, May 13, 2016 at HOLY CROSS CATHOLIC CHURCH, 309 Desnoyer Street, Kaukauna with Father Tom Pomeroy officiating. Visitation will be held from 10:00 a.m. until the time of services. In lieu of flowers, memorials may be made out to Kaukauna Athletic Club. Boettcher Family Funeral Home of Kaukauna is assisting the family. www.boettcherfamilyfuneral.com. 920-766-2099