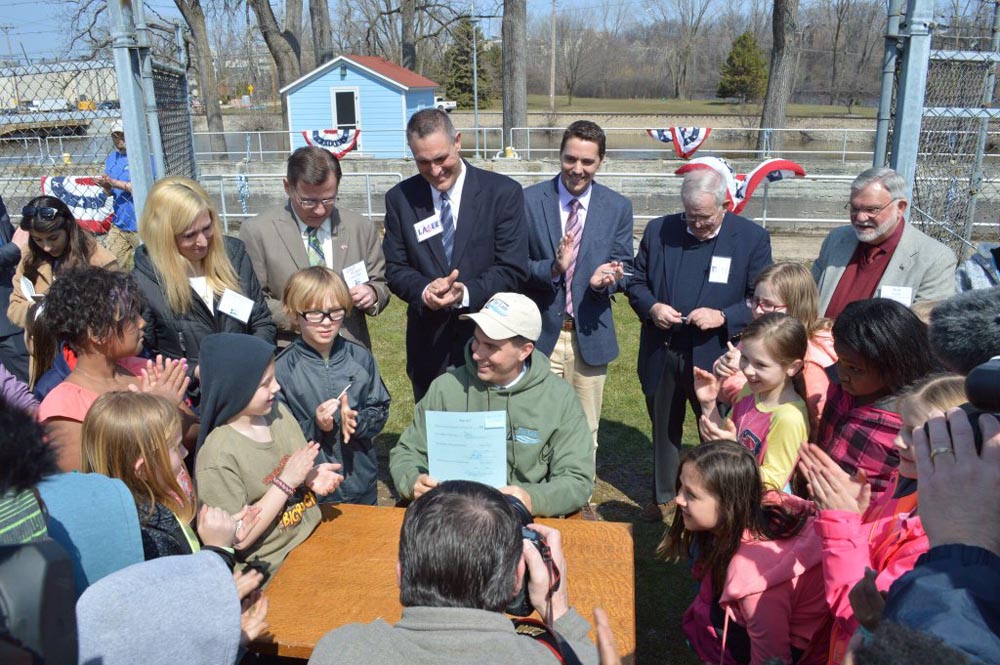 APPLETON — A $1.8 million visitor center designed to showcase the history of the Fox River locks system took a major step forward today after a bill paving the way for the center was signed by Gov. Scott Walker.
Walker held a signing ceremony April 14, 2016 at Lock No. 3 at the northeast corner of South Lawe Street and the Newberry Trail where the visitor center eventually will be built.
The bill was written by Rep. Jim Steineke, R – Kaukauna, and Sen. Roger Roth, R-Appleton.
"Wisconsin's rivers are not only an important method of transportation, they also serve as a major attraction for tourists to our state as well," Walker said in a prepared statement. "Assembly Bill 810 allows for the construction of a Fox River Navigational System Visitor Center, which will benefit the region as a whole as it continues to grow as a tourist destination and serve the needs of the community, including students who will be able to visit the center for educational purposes."
The legislation, Assembly Bill 810, authorizes the Department of Administration to sell a parcel of land to the city of Appleton for the visitor center.
The bill also allows the Fox River Navigational System Authority to lease the parcel of land from the city of Appleton in order to construct, operate and maintain the visitor center.
FRNSA will be required under the bill to establish an escrow amount with money sufficient to dispose of the visitor center, if necessary, in the future.
FRNSA pledged $750,000 for the visitor center, and the Fox Cities Convention & Visitors Bureau awarded a $100,000 tourism development grant for the project, according to the Post-Crescent.
A fundraising campaign will be launched to generate additional money. Organizers hope to open the visitor center in 2017.