UPDATE: The fire is fully out and all crews have been released, Combined Locks Public Safety has announced.
********************************************
COMBINED LOCKS — It could be several days before the fire at a combined locks warehouse company is fully extinguished, Combined Locks Fire and Rescue Chief Ken Wiedenbauer said Saturday morning.
"This will be a multi-day event with fire crews working to pull everything apart and access areas that continue to burn in the effected areas," Wiedenbauer said in a news release.
Fire officials on Friday asked residents in the area of the fire to voluntarily evacuate for several days.
Wiedenbauer credited a quick response from regional departments and fire control systems within the warehouse for limiting the fire, which he said could have been much worse.
The fire at Warehouse Specialists located at 100 Prospect Street in the village of Combined Locks was first reported on Friday, July 8 at approximately 10:25 a.m.
Combined Locks Fire and Rescue, Buchanan Fire and Rescue, Outagamie County Sheriff's Deputies as well as Kaukauna Ambulance were dispatched to for a report of a fire involving paper pulp bales.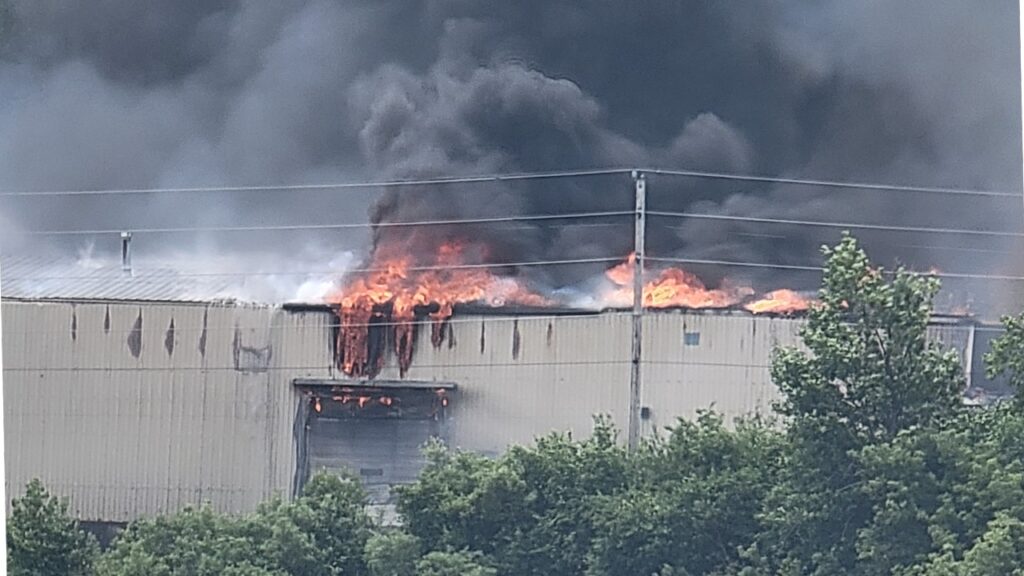 Ladder trucks from Kaukauna, Little Chute and Appleton were used to flow water through the roof where the fire had already breached in an attempt to cool the burning area.
When firefighters first arrived, heavy smoke was seen from the warehouse loading dock area and heavy fire had already breached the roof, according to a news release.
A water supply was secured and hose lines were deployed in an effort to get an initial knock down on the fire but due to safety concerns with the possibility of stacked burning bales falling on firefighters, crews were not able to make it all the way into the structure.
Fire doors that separate the partitions inside of the warehouse were operational and in the closed position. These doors allow the building to essentially be "compartmentalized" as long as they don't suffer catastrophic failure from heat.
Additional resources from nearby departments were immediately requested by incident command on scene. Kimberly, Little Chute and Harrison Departments were included with that request.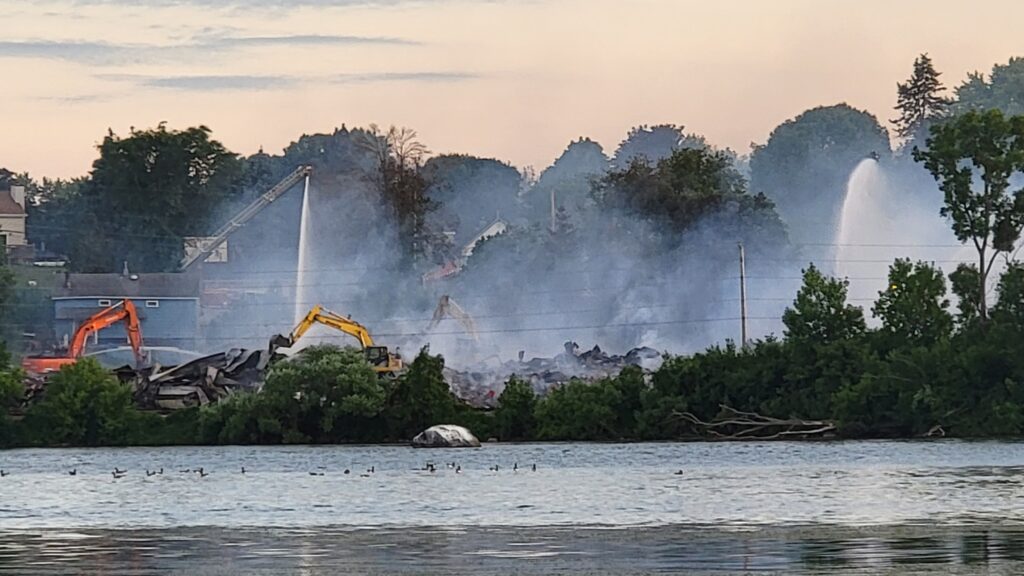 Due to the size of the building, contents and fuel load, the decision was made to escalate the situation utilizing MABAS (Mutual Aid Box Alarm System). Activating this system brought a very large amount of preplanned resources to the scene quickly.
Additionally, the municipal water system was not able to keep up with the water demand on scene. A tender strike force was requested to the scene. This involved multiple counties.
A fill site was set up at Kimberly Boat Launch at Sunset Park. Water was then shuttled via tenders to the scene and unloaded into portable tanks. Engines on scene were then utilizing this in addition to municipal water hydrants.
While the Fox River is directly behind the warehouse, several sets of railroad tracks, a very narrow service road and a drop off on the river bank made it not possible to access it with a fire engine to pump water up to the other engines. This is why the Kimberly site was chosen.
The fire doors did their job by preventing the spread of the fire even further. Unmanned master streams were deployed to keep the fire doors and fire wall cool to prevent the fire from spreading to unaffected areas of the building.
Hand lines and crews were also deployed to protect residential structures to the east of the warehouse.
Excavators were called in to begin overhaul to separate the burning bales, pull walls down and allow for fire crews on scene to check for extension to the next warehouse partition on the west side of the fire door and wall.
Additional interdivisional strike teams for engines and tenders were requested for the overnight hours to continue suppression work which allowed the initial responding crews to go home and rest before being recalled the next morning.
Crews were called from counties as far away as Door, Sheboygan and Wood.
At any given time, we had approximately 9 engines, 25 tankers (split on each side of the scene), 3 ladder trucks and many more support units on scene. A rough estimate is approximately 67 departments came to our aid in one way or another.
As the event progresses, Chief Wiedenbauer will be meeting with WSI employees to better understand the events leading up to and possible causes of the fire.
At this time, it does not appear suspicious or intentional.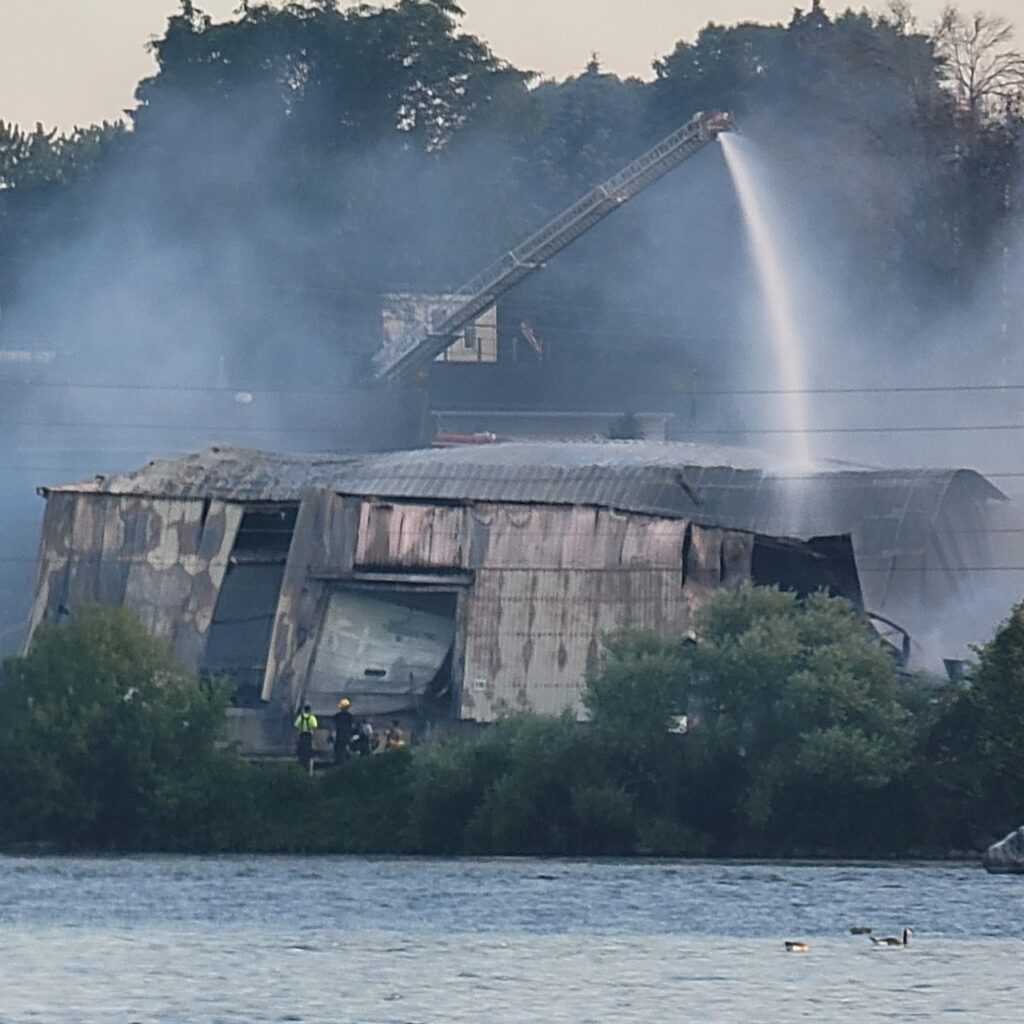 A dollar amount of the loss (including building and contents) is not readily available.
"We'd like to thank each department that came to assist us, and those who have yet to come. Without your quick response, this event could have ended much worse," Wiedenbauer said.
.
.