UPDATE, 8 a.m. Saturday: It could be several days before the fire at a combined locks warehouse company is fully extinguished, Combined Locks Fire and Rescue Chief Ken Wiedenbauer said Saturday morning.
"This will be a multi-day event with fire crews working to pull everything apart and access areas that continue to burn in the effected areas," Wiedenbauer said in a news release.
Wiedenbauer credited a quick response from regional departments and fire control systems within the warehouse for limiting the fire, which he said could have been much worse.
Combined Locks Fire and Rescue, Buchanan Fire and Rescue, Outagamie County Sheriff's Deputies as well as Kaukauna Ambulance were dispatched to for a report of a fire involving paper pulp bales.
********
UPDATE, 8 p.m. Friday: Combined Locks officials are asking residents to voluntarily evacuate for the next couple of days.
At a minimum, residents in the vicinity are reminded to keep their windows and vents closed. The public is asked to stay away from the area to avoid interruption and distraction to the firefighting efforts.
Fire officials say smoke continues to blanket that area of the fire, and as the wind subsides overnight, the smoke will get heavier.
In addition to the smoke, firefighting crews will be working overnight and possibly through Saturday and Sunday.
Representatives of the Wisconsin Department of Natural Resources have stated that there are no environmental issues at this time. They will reevaluate the situation over the next several days.
***********
COMBINED LOCKS — Firefighters have been on the scene of a massive warehouse fire on Combined locks since mid-Friday morning.
According to a news release, Combined Locks and Buchanan Fire and Rescue Departments were called to Warehouse Specialists at 100 Prospect Street in the Village of Combined Locks about 10:30 a.m. for a report of a fire.
The warehouse stores large paper bales for a local paper mill. Firefighting crews from over 13 agencies have been working to suppress the fire.
Prospect Street, Kimberly Avenue and Darboy Road were closed to traffic as of 3 p.m., according to Combined Locks Public Safety.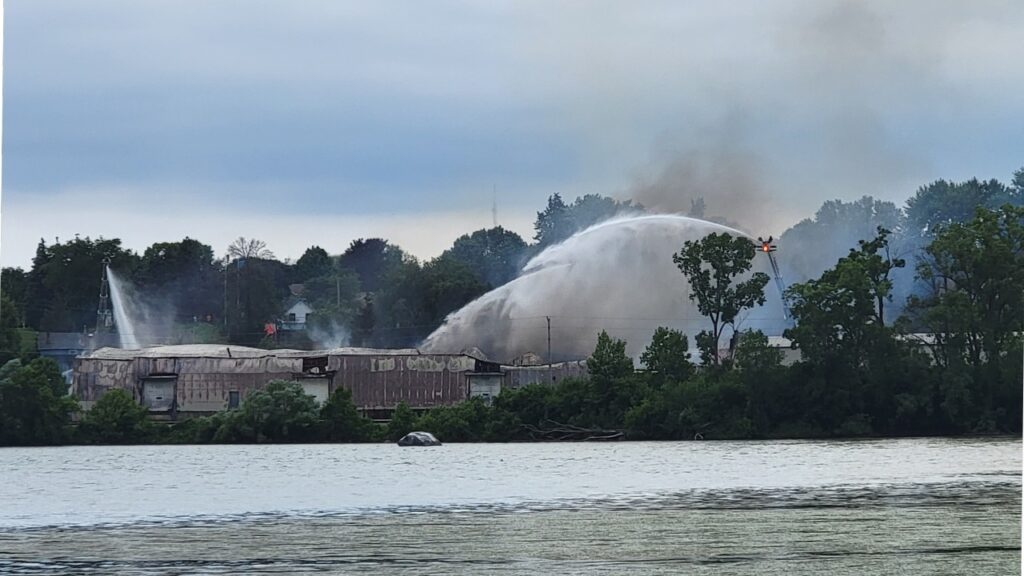 Images of the scene from photographer Victor Olson taken from across the river shows material dripping down the side of the building fully in flames as firefighters dump water on the scene.
Firefighters spent the day shuttling water to the scene with Tenders/Tankers from Sunset Park Boat landing. Fire crews from multiple departments and counties were on scene all working together to keep the fire contained to one area of the building.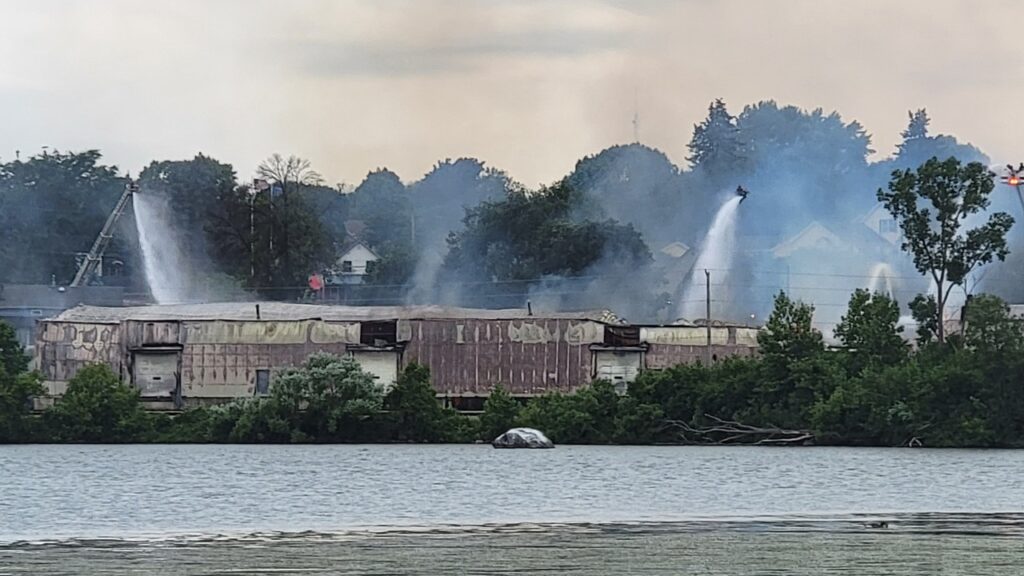 .
.
.