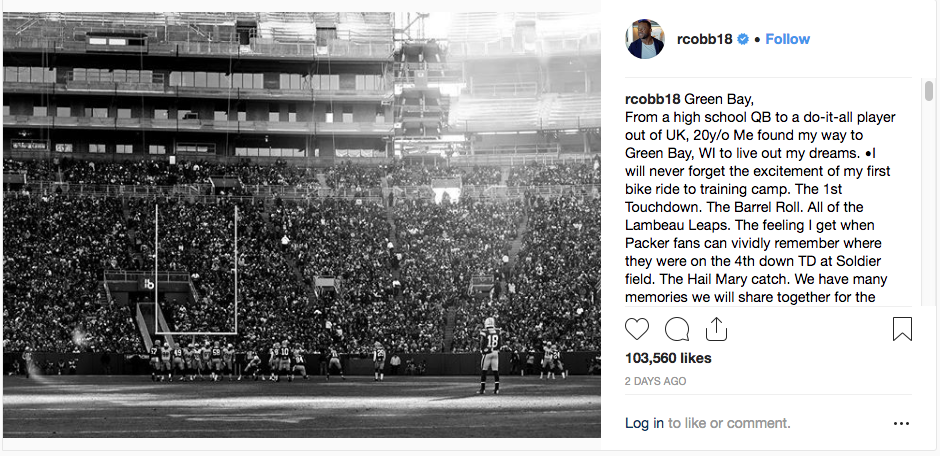 GREEN BAY — Although wide receiver Randall Cobb is now a Dallas Cowboy, he says he won't soon forget his days as a Green Bay Packer.
In an Instagram post Friday, Cobb thanked Green Bay fans for his years on the team.
"Even after all of those memories, it will always be the people that really made being a Packer special," Cobb wrote.
cobb18
Green Bay,
From a high school QB to a do-it-all player out of UK, 20y/o Me found my way to Green Bay, WI to live out my dreams.
•I will never forget the excitement of my first bike ride to training camp. The 1st Touchdown. The Barrel Roll. All of the Lambeau Leaps. The feeling I get when Packer fans can vividly remember where they were on the 4th down TD at Soldier field. The Hail Mary catch. We have many memories we will share together for the rest of our lives.
•Even after all of those memories, it will always be the people that really made being a Packer special.
•I want to thank the people of Green Bay and the state of Wisconsin for sharing their home with me for the past 8 years. I want to thank the organization for believing in me, drafting me, and giving me an opportunity to live out my dreams. I want to thank the many coaches, trainers, strength & conditioning staff, equipment staff, community outreach, marketing, digital, and everyone else I'm leaving out. You may think that you're just doing your job, but in the process you were elevating me to be the best version of myself.
•To all the individuals working with the vast charities, my goal was to sincerely honor and bring light to the cause.
•Thank you to all my teammates over the years. I am NOTHING without each and every one of you. Football is the ultimate team game. All I ever wanted was to earn your respect with the way I practiced, played, and worked. The bond we have created goes well beyond the playing field.
•To my family, thank you for supporting me wherever I go and being my biggest fans! To my parents, you sacrificed a lot to fuel my dreams. I hope I continue to make you proud.
•To my wife, Aiyda, I'm sorry to keep moving you across the country but you have been my rock through the ups and downs.
•In the end, I can promise you that I gave you everything that I had, every time I walked out of the tunnel. It was an honor to wear 'The G' and represent you all.
•This was inevitable. All good things must come to an end. But this isn't the end of the story. Just the end of this chapter. -18