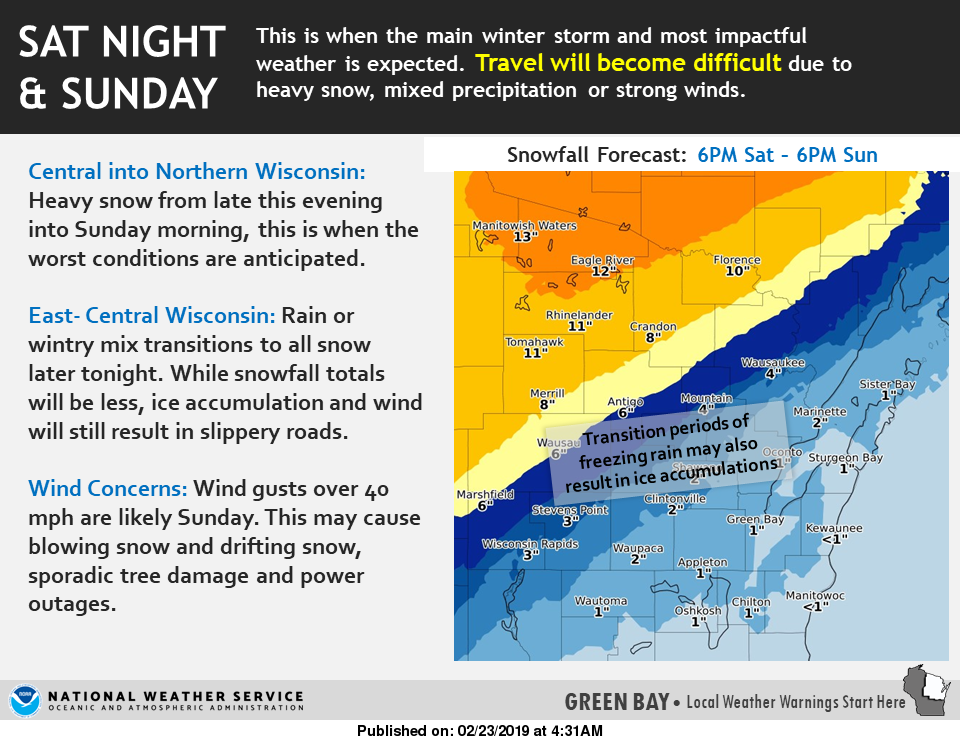 Transitions of freezing rain are expected in the Fox Valley and Door County as a potent storm with heavy snow is expected tonight, Feb. 23, 2019, into Sunday over much of northwest Wisconsin, according to the National Weather Service in Green Bay.
Travel will become difficult tonight, especially north and west of the Fox Valley. Winter storm warnings and winter weather advisories have been posted for locations north and west of the Fox Valley.
Very windy conditions are expected on Sunday with wind gusts over 40 mph possible. This may also result in tree damage and sporadic power outages.
Strong northwest winds will develop late tonight and continue Sunday as the storm center begins to pull away to the northeast. Winds are expected to gust from 35 to 50 mph at times. The strong winds are expected to create areas of blowing and drifting snow and may cause damage to trees resulting in sporadic power outages.
An upper disturbance racing out ahead of the main storm will bring a round of wintry precipitation to the area this morning.
Counties affected include Outagamie, Brown, Kewaunee, Winnebago, Calumet and Manitowoc, including the cities of Appleton, Green Bay, Kewaunee, Luxemburg, Oshkosh, Neenah, Menasha, Chilton, Brillion, New Holstein, Manitowoc, and Two Rivers
728 AM CST Sat Feb 23 2019