KAUKAUNA — Sam Kelly, a member of the Kaukauna School board, announced he will run for mayor in the spring 2018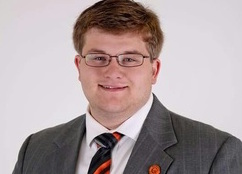 election.
Election day is April 3, 2018. A primary would be Feb. 20, 2018, if necessary.
Longtime Kaukauna Mayor Gene Rosin announced back in September that he would not  run for re-election, according  to the minutes from the Sept. 5,  2017 Kaukauna common council.
Rosin won his sixth, two-year term for the city's top job in spring 2016, defeating challenger Marty DeCoster, who now is a member of the city council.
In a message posted Saturday to the Kaukauna Community News Facebook page, Kelly didn't lay out any specific policy proposals, but invited voters to reach out to him with their ideas.
"The duties of the mayor are to act in the best interest of the everyone in the city," Kelly wrote. "The only way to do that is to be in touch with the people of Kaukauna."
Kelly's full statement:
Hello everybody! I just wanted to get a quick message out to everyone to spread the news.

I had planned on waiting until the Kaukauna Christmas Parade to announce but why not get the word out there a little earlier.

I will be running for mayor of Kaukauna in this coming spring election.

We will have a lot of work from now until election day and we will do our best to keep you updated throughout the whole process.

We want to be as open as we possibly can with everyone because when it comes down to it, the duties of the mayor are to act in the best interest of the everyone in the city. The only way to do that is to be in touch with the people of Kaukauna.

So with as much work as we will be doing, we need your help.

We want to hear from you, what are the issues the city should address?

How do you want the city to run? How can we better serve you? We want to hear from you, so please do not hesitate to get in touch with us because we want to hear your ideas and concerns.

Please keep an eye out these next few months and when you see me out don't be afraid to come up and say hello and have a conversation.

Have a great day! -Sam