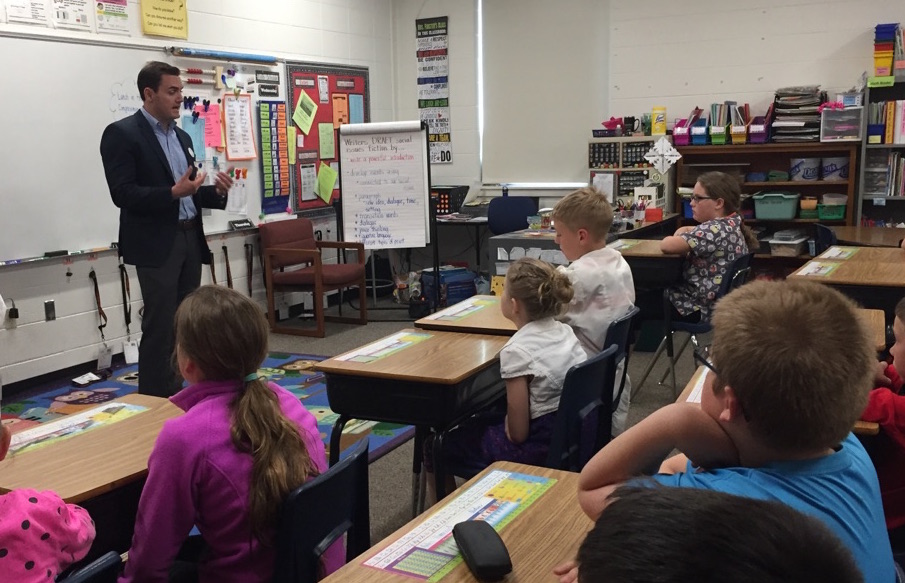 By Carrie Forster
"What part of your job is hard for you?"
That was just one of the questions my students asked Congressman Mike Gallagher when he visited my fourth-grade classroom at Electa Quinney Elementary School on Wednesday, May 10, 2017.
My students have been studying branches of state government and visited the state capitol building in Madison this week, along with our entire fourth grade.
Gallagher's visit was the culmination of our government study and a great opportunity to hear about our government first hand.
Gallagher asked students questions about our state and federal government, and he also spoke to the students about the qualities they'll need to be successful adults -– working hard in school, showing perseverance and working hard in the face of challenges and showing public service in support of our community and our country.
When he asked the students, who is ultimately in charge of our government, they responded "the people are."
He told them that they are absolutely correct and that they have a responsibility when they grow up to show their public service by voting, being involved in their communities, being informed about issues and being participants in their government.
Some of my students aspire to run for elected office someday, which he said is great, but it is not the only way to show service to our community and our country.
The students were curious to hear what the representative's job entails, and whether he travels, and if he's ever met the president. (He responded that he shook the president's hand once, but has not met him personally.)
When asked "What part of your job is hard for you?" Gallagher responded that our two parties are like two teams competing against one another, and right now he feels we are in a time where both sides do a lot of talking past each other and not enough listening.
He said he hopes to find a way to help both sides work together. He said that, in the end, he believes that both parties have "more common ground" than differences, and he hopes to help work on that.
After the visit, my classroom was abuzz with excitement. One student commented, "I can't believe I got to meet a real congressman." Who knows what future leaders may have been inspired by today's visit.
Carrie Forster is a fourth grade teacher at Electa Quinney Elementary school and cofounder of Kaukauna Community News