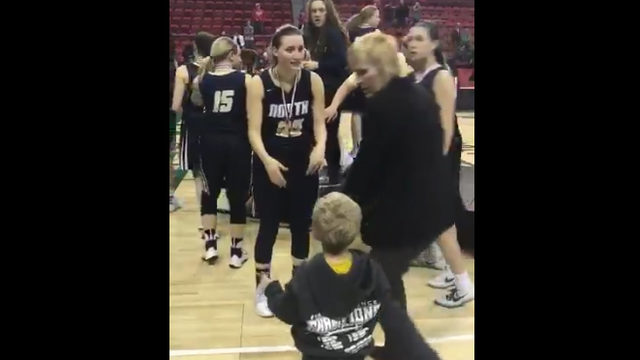 APPLETON – Apparently all Jaylen Levy wanted was to give his big sister Sydney a hug after her team's WIAA Division 1 state championship win, just like after every other game.
But a WIAA official, caught up in trying to get the team organized for their awards, shushed little Jaylen away.
Sydney Levy is a member of the Appleton North team that had just defeated De Pere 49-34 March 11, 2017 at the Resch Center in Green Bay.
The interchange was captured on a video for their father, and quickly went viral over the weekend, prompting a response from the WIAA.
@wiaawistate didn't let Jaylen give his sister, Syd, a hug after winning the STATE! He gets excited to hug her after EVERY game. He cried 💔 pic.twitter.com/Usvd1M2D04

— Nic Levy (@CoachNicLevy) March 12, 2017
Here's the WIAA response, that was released Monday morning.
The Wisconsin Interscholastic Athletic Association acknowledges that the short video clip that was released on social media Sunday may be seen by the casual observer as insensitive.

In the celebratory situations following a State championship, it is not possible for the WIAA to know the individual traditions and rituals of all the schools, teams, families and players involved.

For the safety of all involved, we keep spectators off the playing surface.  As an organization that runs large events on a regular basis, our focus is always on the safety and "what if' situations that can evolve quickly and cause potential harm to innocent bystanders.

When the WIAA staff receives advanced requests regarding special family situations or needs, we do our best to accommodate if and when possible.

The WIAA has reached out to the family to express its regrets for any distress they may have experienced.