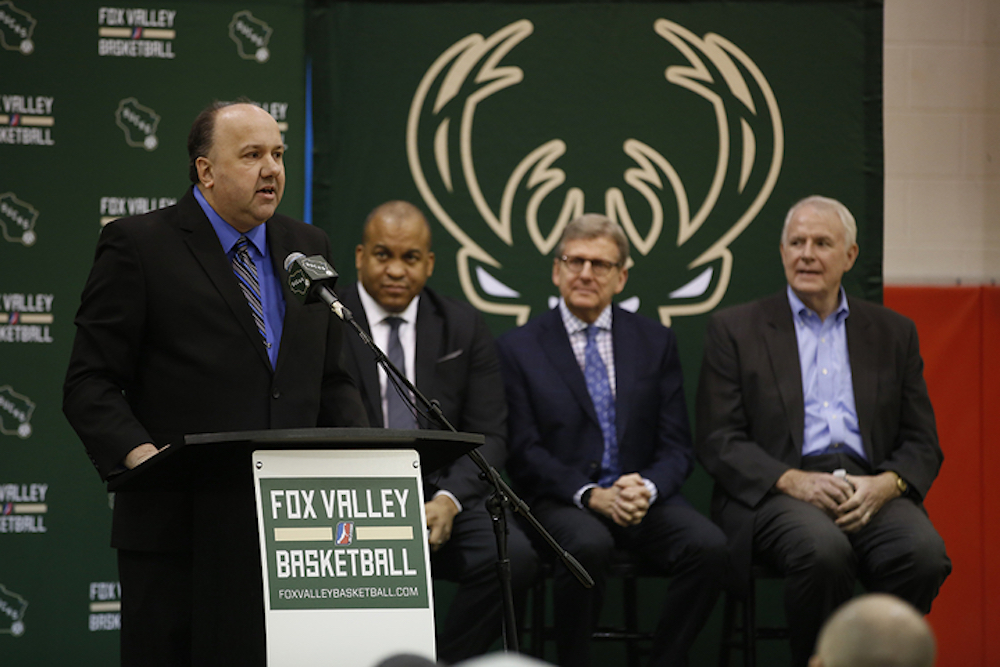 OSHKOSH — A new NBA Developmental League team will be ready to play in Oshkosh later this year, according to Milwaukee Bucks team and city officials.
The Bucks have acquired the right to own and operate an NBA D-League team that will begin play in Oshkosh, Wis., for the 2017-18 season.
As part of the deal, Fox Valley Pro Basketball led by Greg Pierce will be constructing a new 3,500-seat arena for the new minor league team. With the purchase, the Bucks become the 20th NBA team to own and operate an NBA D-League affiliate while the NBA D-League grows to a record 25 teams for next season.
"Our ownership group has been steadfast in its commitment to both build a championship-caliber basketball program and develop stronger partnerships with fans and communities throughout the state of Wisconsin," Bucks co-owner Wes Edens was quoted as saying in a news release. "We're thrilled to announce this partnership with the City of Oshkosh, Greg Pierce and his team, and the incredible basketball fans throughout the Fox Valley. This new team will be an invaluable resource for our basketball staff and an incredible vehicle for connecting with Wisconsin's passionate sports fans."
"NBA teams are increasingly recognizing the NBA D-League's value in providing opportunities to players, coaches and front office executives," said NBA D-League President Malcolm Turner. "A record two-thirds of NBA teams now own an NBA D-League affiliate, and I'm excited to welcome Wes Edens, Marc Lasry, Jamie Dinan and the Bucks to that list."
The Oshkosh Common Council recently approved plans for a new 3,500-seat arena that is expected to anchor the newly-designated "Sawdust District" located near Pioneer Drive Park along the shore of Lake Winnebago. Similar to the arena development currently under construction in Milwaukee, the Oshkosh arena project will serve as a catalyst for additional economic development in the surrounding area. The overall vision for the project calls for the 3,500-seat arena, which will also house a sports bar and team store, along with proposed future development that could include a hotel and additional dining and entertainment venues.
"I believe that Oshkosh's Central City is on the verge of a renaissance," Oshkosh Mayor Steve Cummings said. "The Bucks' selection of Oshkosh as its location for their D-League team reinforces our reputation as a great place to work, play and learn. The new arena will be the cornerstone of a revived central city that will attract visitors and greater development opportunities to Oshkosh."
"When we pitched this idea, the Fox Valley's response was so immediate and enthusiastic, we knew this would be the ideal location for the team to expand," Greg Pierce of Fox Valley Pro Basketball was quoted as saying in a news release. "This is a once-in-a-generation opportunity. Building a new arena, bringing the Sawdust District vision to life and expanding the sports and entertainment options in our region will have a transformative impact on our community."
Fans interested in securing tickets for the inaugural season of NBA D-League action in the Fox Valley can reserve their seats online at www.foxvalleybasketball.com. All fans who submit a deposit towards season tickets by this Friday, Feb. 10, will receive a pair of tickets to the Bucks' Fan Appreciation Night game vs. Charlotte on Monday, April 10. Visitors to the site are also encouraged to submit ideas for the official team name, which will be announced in the coming months.
As part of the announcement, the Bucks are also welcoming BMO Harris Bank as the first official sponsor of the new NBA D-League team. A longtime partner of the Bucks, BMO Harris Bank operates in nearly 200 branches in the state of Wisconsin, including 12 in the Fox Valley.
More than 75 NBA players have been assigned to the NBA D-League for development or rehabilitation this season, including half of the players selected in 2016 NBA Draft presented by State Farm. In total, more than 40 percent of the last five NBA Draft classes have honed their skills in the NBA D-League.
Two current Bucks, Khris Middleton and Rashad Vaughn, have NBA D-League experience. In total, the Bucks have assigned 10 players since the 2005-06 season, the first when NBA teams were able to send players to the NBA D-League.