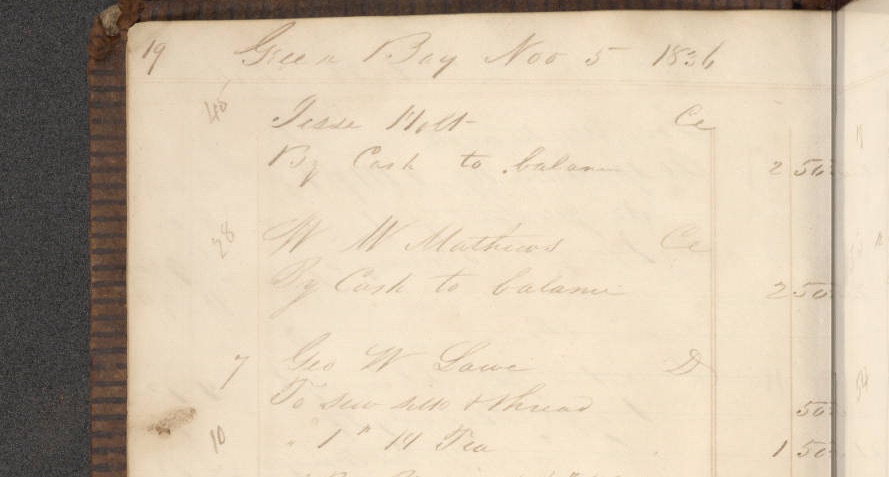 KAUKAUNA — A rare piece of local history has been digitized and can now be viewed online.
What's known as the Grignon Trade Leger was donated to the History Museum at the Castle in 2003 by Dr. and Mrs. Frederick S. Layton of Dedham, Massachusetts and recently been digitized by the Wisconsin Historical Society and University of Wisconsin Digital Collections.
The fur trade ledger was kept by Charles A. Grignon from 1836 to 1842 in what is now Kaukauna.
Grignon's mansion, which has been carefully preserved, was built in 1837 as a wedding gift for his Pennsylvania bride, Mary Elizabeth Meade. An oasis of luxury and civilization on the Wisconsin frontier, this stately home was known as "The Mansion in the Woods" to countless travelers.
Grignon, the son of pioneer Augustin Grignon, started a mercantile business in Green Bay in 1836, relocating to Kaukauna, then known variously as Grand Kakalin, Grand Cakalin, or Grand Kaukalan, in 1837, accoring to a Facebook post from The History Museum.
This ledger from the early years of the business includes a wealth of information on early life in the Fox River Valley, showing the goods sold at the trading post, the prices of those items and how various commodities were measured.
It notes the payment for various types of labor, the names of those doing business with the Grignon family, how often they shopped at the post and what they purchased and the value of meals and lodging at the post.
View the ledger HERE.