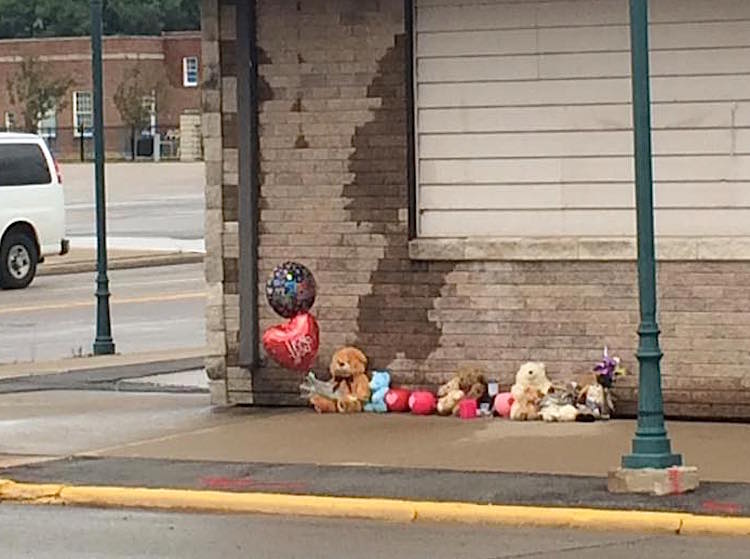 KAUKAUNA — Justin Johnson, a 12-year-old seventh grader at River View Middle School, is the student who died Tuesday, Sept. 6, 2016 after being struck by a school bus in downtown Kaukauna, according to police.
Johnson was walking home about 3:30 p.m. with other kids after the first day back at school when he was struck, police said.
The accident happened at the intersection of Crooks Avenue and Second Street.
Overnight a small but growing memorial of candles, Teddy bears and other momentos has appeared at the corner. Posts on Facebook have urged others in the community to add to the memorial as a way to help cope with the tragedy.
The bus driver has been with the Kobussen bus company for three years, Vice President Dan Kobussen told the Post Crescent. He said that the driver is on unpaid leave, pending the investigation.
Counselors and psychologists were available today at River View Middle School, according to a school district statement.
"The Kaukauna Area School District is deeply saddened by the tragic loss of our student, son, grandson, brother and friend, and we extend our heartfelt sympathy to his family and friends," Superintendent Mark Duerwaecther said in a post on the district's Facebook page.
"Our focus right now is on supporting those close to the student, and our trauma team is working diligently to prepare support for students and staff. Counselors, psychologists and social workers will be on hand at each of our schools for as long as needed. Please join me in sending our thoughts and prayers to his family," he wrote
The accident happened at the busy intersection shortly after school let out. Traffic has been especially heavy due to road closures caused by construction on the Island Street bridg.
The bus was turning to go east on Second Street when it struck the boy, who was crossing the street, according to reports.