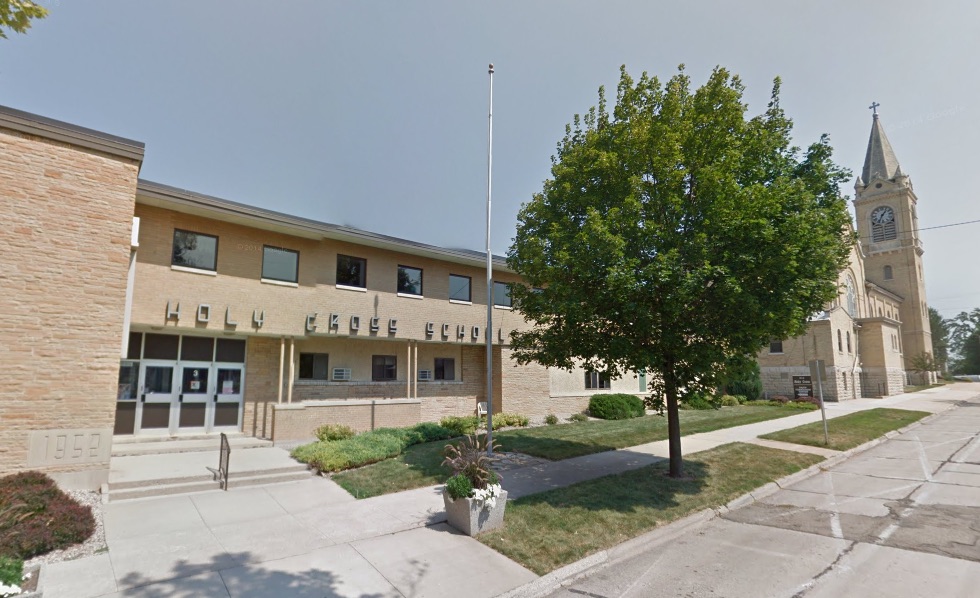 KAUKAUNA — The Kaukauna Catholic School System at the Holy Cross campus will launch a new name and logo beginning July 1.
The school will be named St. Ignatius Catholic School and will have a new logo featuring a coat of arms, according to a Facebook post by Pastor Tom Pomery.
The Kaukauna Catholic School System was created on March 31, 1993, at a joint meeting of the Parish Councils of Holy Cross, St. Aloysius and St. Mary parishes, according to the district website. (More history HERE.)
Following a series of consolidations, the Holy Cross Campus currently is the site for preschool through grade 8, Child Care, the business office and the marketing and advancement office.
More about the coat of arms, from Fr. Pomery:
1. This has been a traditional symbol for Catholic Schools for a long time.
2. The Cyclone in the upper left Corner is our sports team (Which did NOT change its name). We are The Cyclones. We wanted continuity with our old name. Also, we are proud of our student athletes. Also in this Field are HC and SKD. These are the initials of the two supporting parishes: St. Katharine Drexel and Holy Cross. If I remember correctly our cyclone is called "Syd the Cyclone."
3. The Lines from the coat of arms from St. Ignatius' family. It connects us to our patron saint. The lines represent his family.
4. AMDG is the Motto of St. Ignatius and the Jesuit order he founded: ad maiorem Dei gloriam (All for the Greater Glory of God). This motto is on the Corner stone of both St. Marys Church and Holy Cross Church. Notice there is Cross in the midst of the letters: The Greatest Glory of God is the Cross. We give glory to God as disciples as we take up our cross and follow him.
5. Across the front it says: St. Ignatius Catholic School. We really wanted to stress: We are a Catholic School. Our faith is central to all that we do.
6. Across the bottom it says: Classical Education. This refers how we educate our children. This is a form of education which stresses the Excellence in Education and formation of each student as a Christian and moral person.