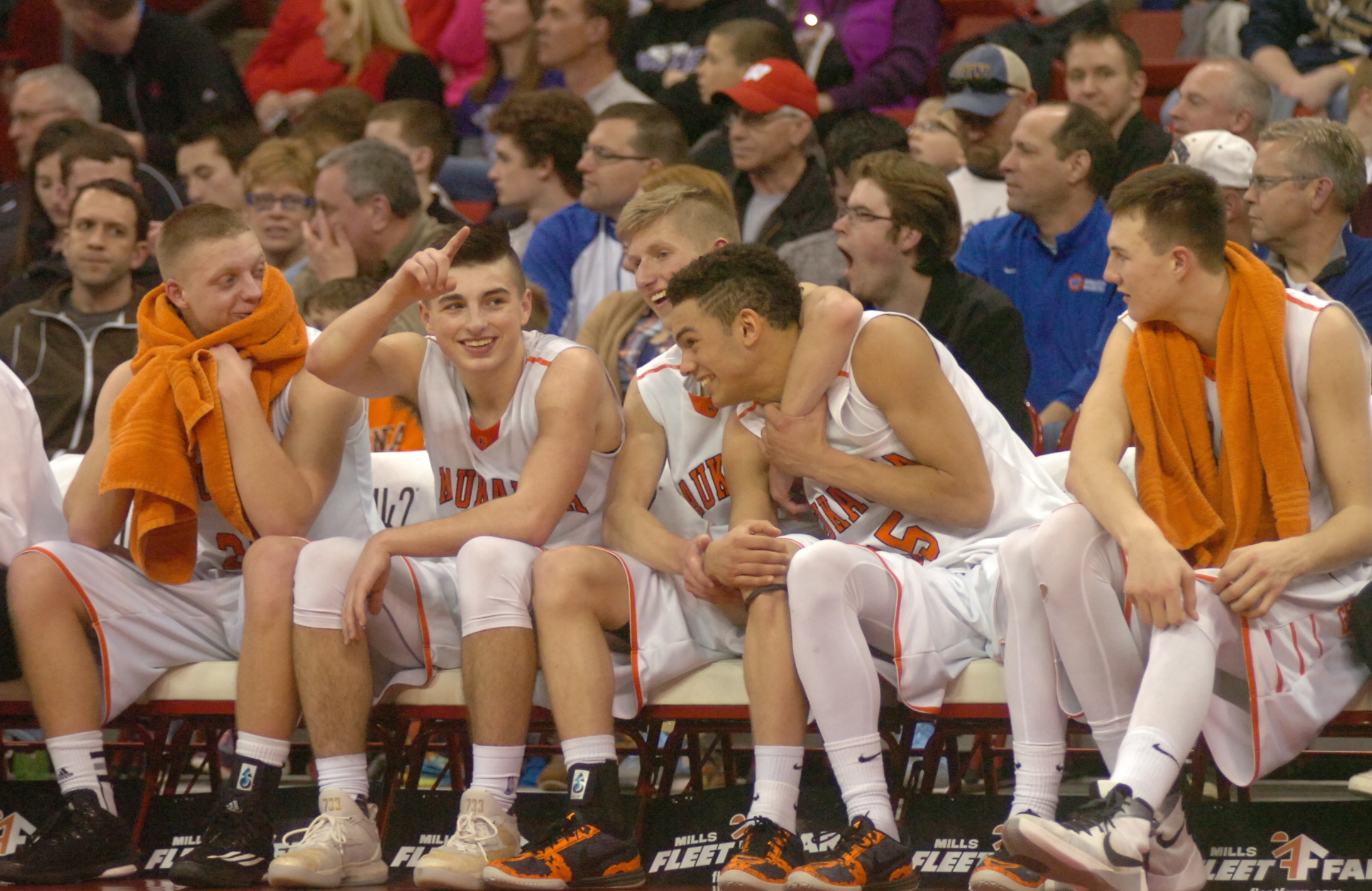 MADISON — The Kaukauna Ghosts capped off a dazzling season with the school's first boys high school basketball championship Saturday, March 19, 2016 after defeating Waunakee 91-62 in the Division 2 final at the Kohl Center in Madison.
Kaukauna boys now are the current state champions in basketball, team wrestling and volleyball.
A crowd of jubilant parents, students and fans crowded the Kohl Center outside the locker room after the game to welcome their new champions following a game that was physical and grinding early, then turned into a run and gun affair that favored the Galloping Ghosts.
Sophomore Jordan McCabe led all scorers with 24 points on eight for 15 shooting. Adam Smith had 22 points and Marcus Moreau had 18.
Waunakee also favors an up-tempo game, but had to claw back to 22-20 with 4:42 left before their rally began to wilt.
"We felt that if we could get teams to play the full court or play in space as well as we feel we can, then that's advantageous for us," Head Coach Mike Schalow said.
And that strategy played out as predicted.
Kaukauna tied the Division 2 record with 91 points and set the record for largest margin of victory.
The win was everything the players had dreamed of.
"I know a lot of people have said it's everything that we've dreamed of since third or fourth grade, and they couldn't be any more right," Smith said.
Smith, a junior starter, returns next year, and starters Dylan Kurey and McCabe are only sophomore this year.
And their special place in history wasn't lost on the players.
"Plain and simple it means we're the best team in Kaukauna basketball history," McCabe said. "Now I don't have to sit down at the dinner table and listen to my dad tell me that his team was better than ours, but we definitely are now."
By the time the Ghosts increased their lead to 79-50 with 4:41 left in the game, Schalow was able to get the bench in to have them get a chance to get in the scorebook in a state championship game.
"We're extremely proud and happy right now," Schalow said.
A parade is planned for 12:30 p.m. Sunday, March 20, 2016 in Kaukauna.
WAUNAKEE 20 42 – 62
KAUKAUNA 33 58 – 91
WAUNAKEE: Miller 8, Freeman 13, Jensen 9, Listau 9, Steffen 4, Ronk 9, Zander 2, Varebrook 3, Buhler 3, Vandenberg 2. Three-pointers: Miller 1, Listau 1, Ronk 2. Fouls: 17.
KAUKAUNA: Erdman 7, Moreau 18, Kurey 8, McCabe 24, Smith 22, Carl 2, McDaniel 3, Vosters 2, Pritchard 2, Eiting 3. Three-pointers: Erdman 1, McCabe 4, Smith 1, McDaniel 1. Fouls: 22. Fouled out: Kurey.