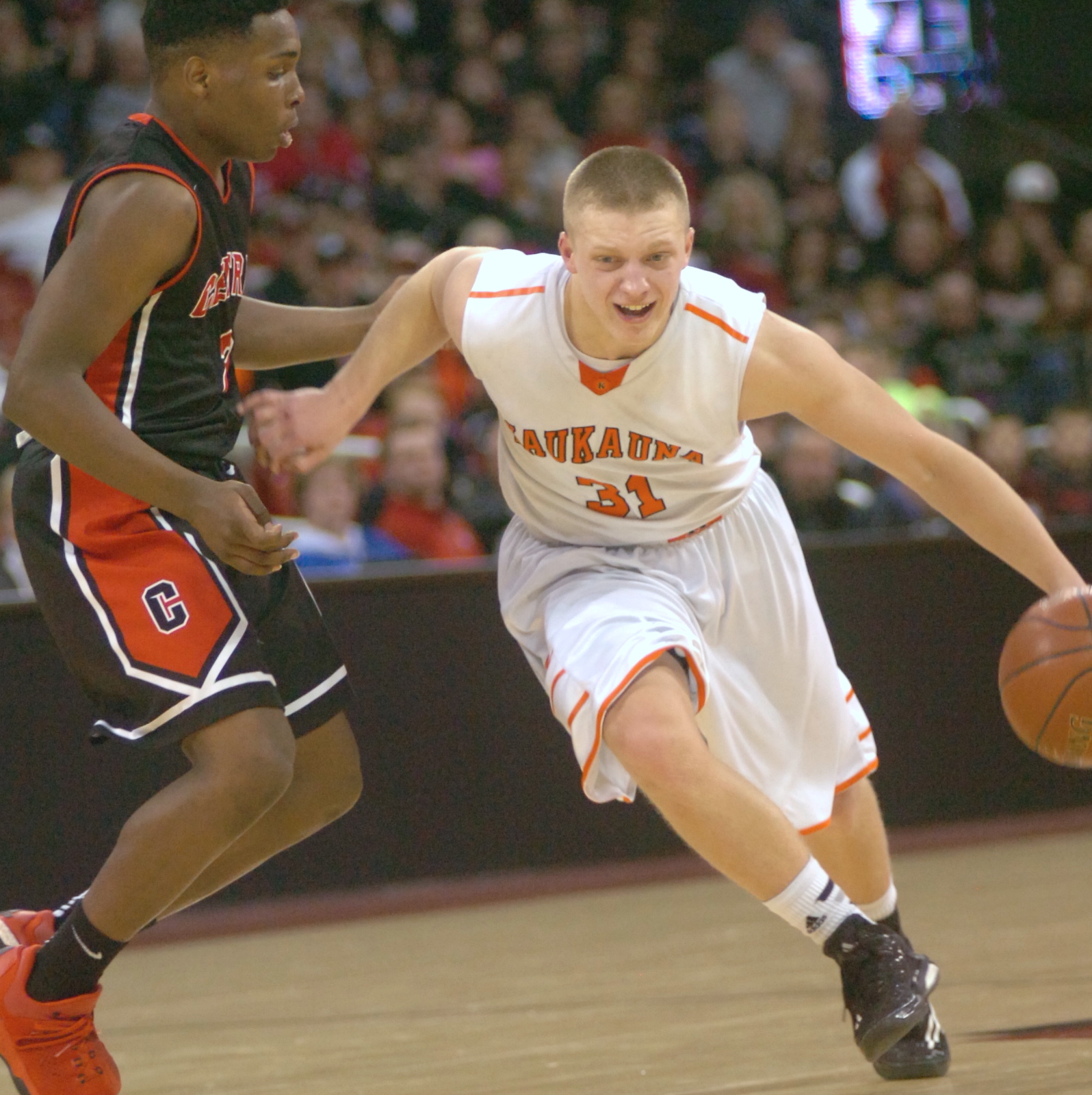 MADISON — The Ghosts put on their usual display of offensive highlights Friday, but defense propelled them into Saturday's championship game.
Kaukauna ran away from La Crosse Central 73-45 on March 18, 2016 during a WIAA Division 2 semifinal at the Kohl Center in Madison.
The Ghosts (25-2) will face Waunakee (25-2) at 6:35 p.m. Saturday, March 19, 2016 for the WIAA state championship.
Kaukauna, more specifically 6-2 senior Dalton Erdman, held La Crosse Central star, and UW-recruit, Kobe King to 9 points on 3-1 shooting. The Red Raiders (22-5) were held to just 28 percent shooting on the night.
Jordan McCabe, Kaukauna's sensational 5-11 sophomore point guard, had a game high 31 points on nine of 14 shooting, going five of 10 from 3-point range. Erdman added 10 points.
"On the defensive end we established ourself right off the bat, I thought that was real important," said Head Coach Mike Schalow. "After that, it was a matter of being smart with each possession."
(Watch the post-game press conference HERE.)
Kaukauna fell behind 14-10 midway in the first period, but a three by Dalton Erdman sparked an 18-0 run, and a three by McCabe just before the half led to a 33-23 halftime lead.
That momentum carried into the second half.
"Dylan Curry was really special," Schalow said. "His length was really important tonight. He had a big game and so did Marcus Moreau. It allows us to do a lot of things out on the perimeter defensively."
Many on the two teams know each other well. Jordan McCabe and La Crosse Central's Bailey Kale have played against each other in summer league, so there's a mutual admiration.
"We're great friends, but on this stage when the lights are shining as bright as they are, there's no friends once we step on the Kohl Center floor," McCabe said. "There's definitely mutual admiration between myself, Kobe (King), Bailey (Kale) and Adam (Haberman)."
Kaukauna finished as runner up in 2012 in their only previous appearance at state.
"We came into this season with hight expectations," Schalow said. "This group relished that they had a target on their back.
Despite the loss, La Crosse Central Coach Todd Fergot left the Kohl Center with plenty of respect for Kaukauna. "If they play as well as they did today, it's going to be tough for any other team to beat them. I give them just a ton of credit," he said.
Now they are just one win away from Kaukauna's first state championship.
Kaukauna                    33      39 — 72
La Crosse Central     23      22 — 45
KAUKAUNA — Carl 1 0-0 2, Erdman 3 2-4 10, Kurey 2 3-3 7, McCabe 9 8-10 31, McDaniel 1 2-2 4, Moreau 3 2-2 8, Smith 3 0-0 8, Wettering 1 0-0 2. Totals 23 17-23 72.
LA CROSSE CENTRAL — Austin 2 1-2 7, Dahman 3 0-0 8, Hanson 0 1-2 1, Kale 6 1-3 13, King 3 2-3 9, Lash 1 1-2 3, Morgan 1 0-0 2, Showen 1 0-0 2. Totals 17 6-12 45.
3-point goals — K 9 (McCabe 5, Erdman 2, Smith 2), LCC 5 (Austin 2, Dahman 2, King 1). Total fouls — K 10, LCC 19.