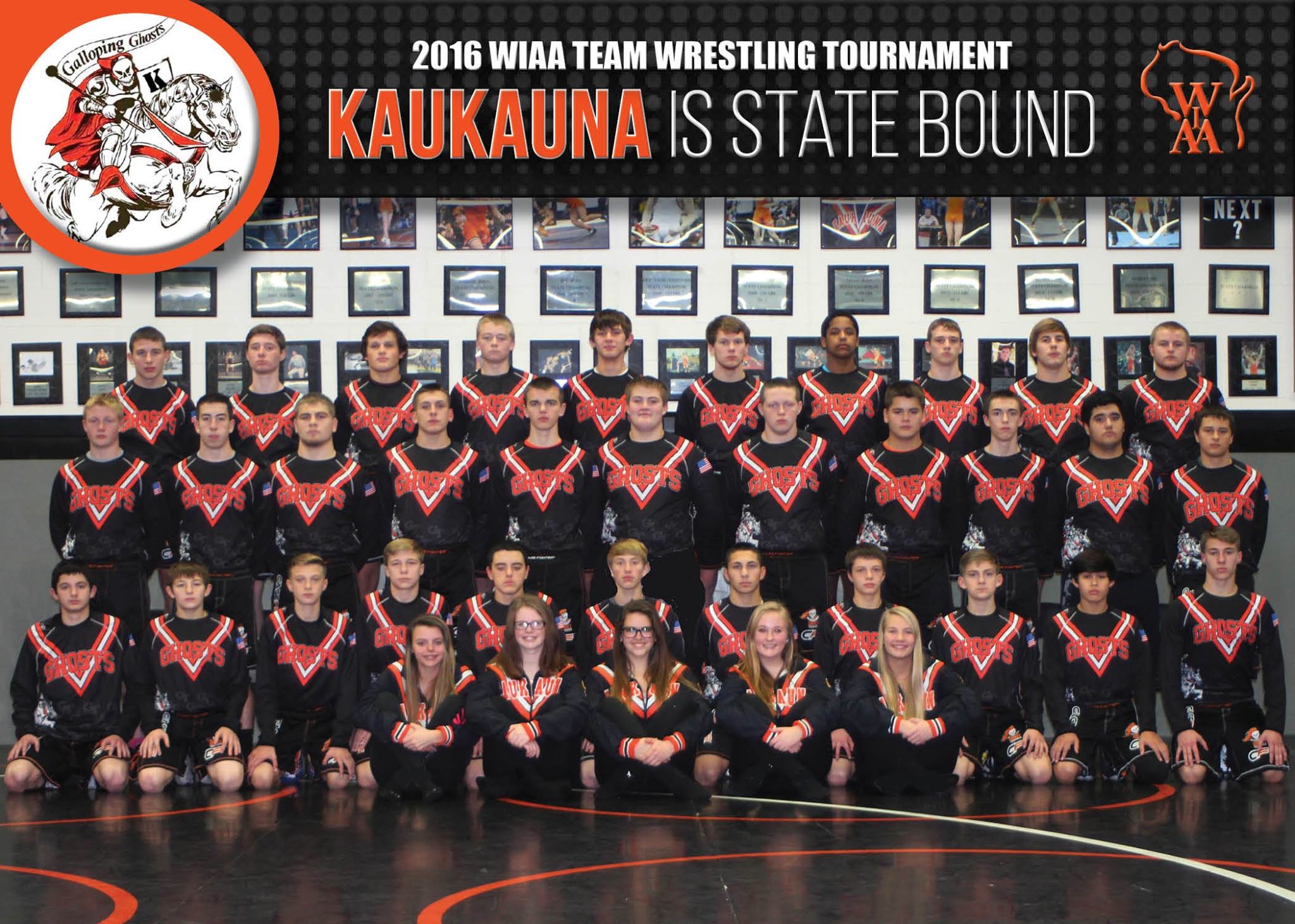 The Kaukauna High School wrestling team takes the mat at 5:30 p.m. Friday, March 4, 2016 against Hudson in the Division 1 quarterfinals of the WIAA state team wresting tournament in Madison.
Division 1 Quarterfinals – 5:30 p.m. pairings
Match-1: Hortonville (16-4) vs. Sauk Prairie (14-5)
Match-2: Stoughton (21-2) vs. Kenosha Bradford/Reuther (19-7)
Match-3: Hudson (15-0) vs. Kaukauna (19-0)
Match-4: Mukwonago (26-2) vs. Menomonee Falls (16-2)
Two-time defending champion Kaukauna is back at State for the seventh time in the last nine years and for the 14th time overall. The Galloping Ghosts had a string of five straight appearances from 1999-2003 and now have currently qualified four straight years. They have finished runner-up four times to go with their two titles, including 2000, 2003, 2008 and 2013. The Ghosts' qualified for State with a 39-3 victory over Slinger in sectional final held at Kaukauna.
The quarterfinals, semifinals and finals of the WIAA State Team Wrestling Tournament will be streamed live on the WIAA.TV portal of the NFHS Network on a consumer subscription basis.
The first WIAA State Team Wrestling Tournament was held in 1940. Until 1992, team champions were determined by a point system based on individuals' placing in what is currently the individual championships. For the first time in 1992, a team champion was determined by a separate tournament series involving dual matches. UW-Stevens Point hosted the first two championships. West Allis Central hosted the meet from 1994-2004. Since then, the tournament has been held at the UW Field House. There were 333 programs entering the tournament series, including 128 in Division 1, 102 in Division 2 and 103 in Division 3.