KAUKAUNA — The Veterans Memorial Bridge will be closed from 9 a.m. to 2 p.m. on Tuesday, Aug. 1, 2023 to repair a mechanical issue found during the break-in/test period, according to the city of Kaukauna.
See detour map on their website or below.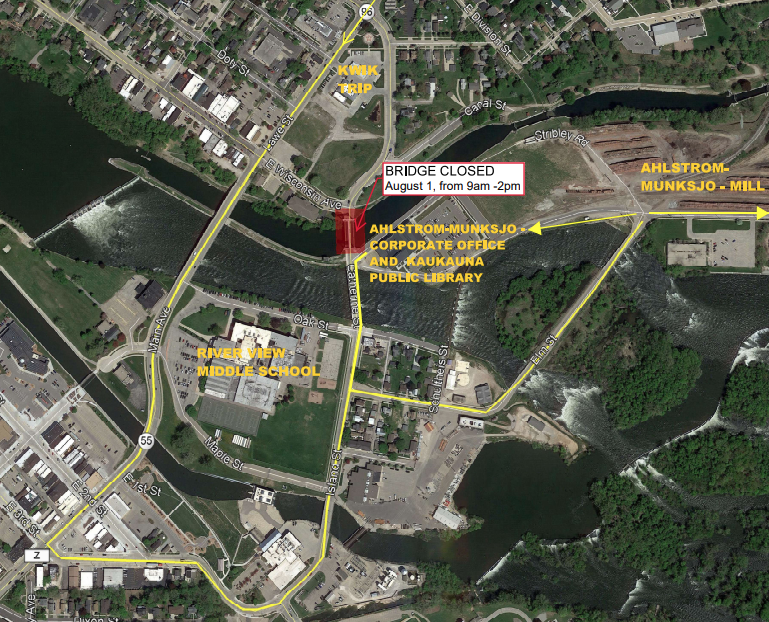 Also Tuesday, city of Kaukauna crews will close the Nelson Family Heritage Trail on from 7 a.m. to 11 a.m. to complete a shoulder mowing operation.
This is needed because this is a large tractor with a boom mowing head attached. The tractor will take up the entire trail so there isn't much room for pedestrians to get around the operation, according to a news release.
The mowing head can also throw debris so this can be a dangerous operation for pedestrians to be nearby.
OTHER MOWING AREAS
Crews will also be moving in areas of the following (no closures anticipated):
Haas Road
Konkapot trail
Nelson Trail
Company Woods
Spring St
Plank Road from Augustine to Florence St
Farmland Drive from Lawe to Goldin's
High Street snow dump/both sides of High
Schuh and Mulry detention pond
Upper Grignon/Disc golf parking lot/Grignon home
Dog Park
Gertrude/Ducharme to Hwy.55
Electric City Blvd/Farrell Rd
Augustine
The hollow
Hersh Farm
Evergreen Dr. ditch to Hwy 55 & 41
Butterfly park/Leach pit/ woody willows by perimeter
Armstrong Ln
Kavanaugh Rd (Fairway Dr North to golf course) and (corner at Weiler)