KAUKAUNA — Watching the film and seeing the home movies again after all these years was powerful.
I was 3-years-old when the original "In White America" exchange happened, and seeing myself on the screen in home movies with my family and the students in the exchange was very moving.
The documentary film, "The Exchange in White America: Kaukauna and King 50 Years Later," was shown Monday for the first time in Kaukauna.
The film contained numerous scenes of home movies shot by my father Herb Plutchak more than 50 years ago when my sister, Linda Plutchak, performed in the play and our family hosted Phyllis Lawhorn, a student from Milwaukee's Rufus King High School.
The experience had a great impact on our whole family, and an impact on me even though I was so young.
In the film, my sister is asked in 2016 about the impact of the exchange had on her and she says, "it changed my whole life."
And it did.
"The Exchange in White America: Kaukauna and King 50 Years Later," launched its northeast Wisconsin tour this week.
SHOW DATES HERE and below.
The documentary chronicles an exchange in 1966 at the height of the Civil Rights Movement among students from Kaukauna High School and Milwaukee Rufus King High School to perform the groundbreaking play, "In White America."
Kaukauna & King Trailer from Don Hertz on Vimeo.
Students from each school stayed with host families in each community as the play was performed in both cities.
Several hundred people watched the film Monday that was introduced by a representative of TDS Metrocom, one of the financial sponsors of the project.
Kaukauna High School Principal Chris McDaniel also welcomed the audience, and the film was introduced by filmmaker Joanne Williams, who began the project in 2016.
During a question-and-answer session after the film, a KHS student asked Williams what was the most difficult aspect of creating the documentary.
Williams said that creating a film like this has three hurdles: finding the right story, funding and marketing so that the film can be distributed.
She found the story of this exchange between the two schools in1966 to be a compelling one, and one that had until now been lost to history.
The documentary brings the exchange to life, as well as showing how the play was staged again at Rufus King in 2016 and brought to the stage in Kaukauna in 2018, thanks to Kaukauna teacher and Diversity Club leader Amy Xiong.
Williams was a student at Rufus King 50 years ago and although she didn't participate in the project, she was aware of it and kept the story in the back of her mind all these years.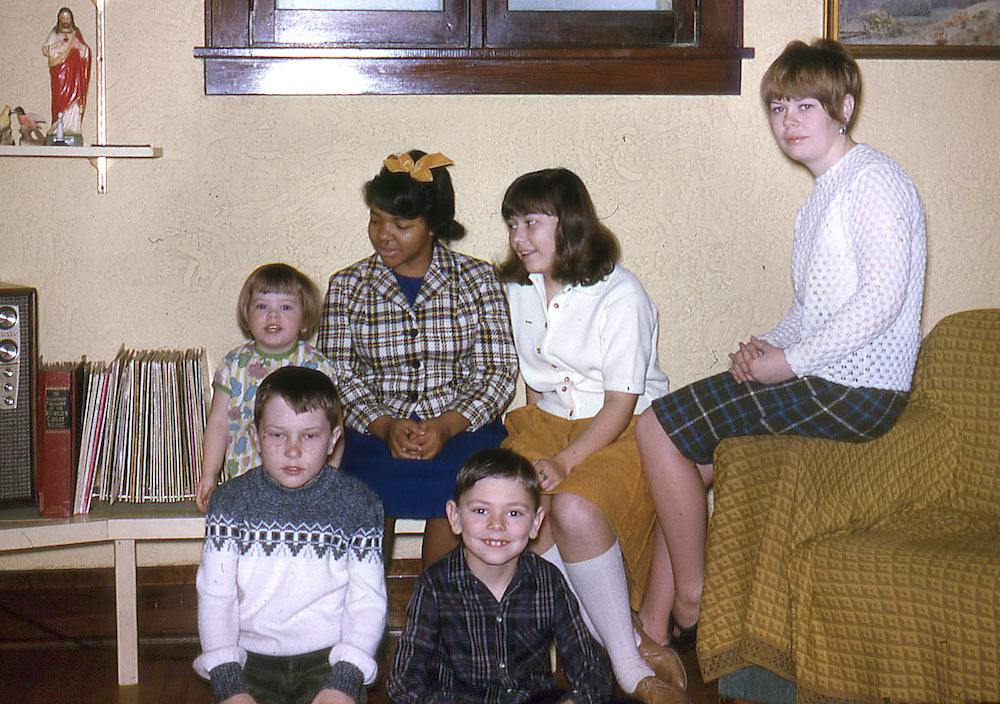 After an award-winning career as a broadcast journalist in Milwaukee and Chicago, she retired in 2008 and in 2016 she found a box of high school memorabilia in her garage that included a copy of her high school newspaper with an article about the exchange and began her "second career" as a documentarian and began this film.
In her introduction to the film at last night's screening, she confessed she had to look on a map to locate Kaukauna and recounted that on her first trip to the city she stopped at the police department to ask directions to the high school.
She said that she also introduced herself and explained that she was doing prep work for a documentary that she would be filming, and that she would be driving around town and taking pictures.
"I may have also given them my license plate number," she added, chuckling.
Some members of the audience said that although they lived in Kaukauna at the time of the exchange, they don't remember hearing anything about it.
Others were there because they remembered either the original exchange in 1966 or the one staging in 2018.
The original exchange was the brainchild of Thomas Schaffer, an English teacher at Kaukauna High School, who decided to perform the play.
In the film, Schaffer's daughter, Paula Vandehey, speaks about her father's experiences putting on the play.
Also in the film, Williams interviews five of the original 13 students about their experiences.
I think it impacted many lives and hopefully, through this documentary, it will continue to change lives.
LAWRENCE UNIVERSITY, WARCH CAMPUS CENTER CINEMA
Tuesday, Feb. 7th | 5PM – 8PM
Screening followed by Q&A with Filmmaker Joanne Williams
UW-GREEN BAY, UNIVERSITY UNION
Tuesday, Feb. 7th – Thursday, Feb, 9th, MULTIPLE SCREENINGS
Feb. 7th | 5PM – 6PM | Screening in the Christie Theater
​Feb. 8th | 3PM – 4PM | Screening in the Christie Theater
Feb. 9th | 11AM – NOON | Screening in the Christie Theater
FOX CITIES PERFORMING ARTS CENTER, KIMBERLY-CLARK THEATER
Wednesday, Feb. 8th | 6:30PM – 8:30PM
Screening followed by Panel Discussion with Filmmaker Joanne Williams, Paula Vandhehey of Ayres, and Amy Xiong of Kaukauna High School.
UW-OSHKOSH, SAGE HALL 1210
Thursday, Feb. 9th | 6:30PM – 8PM
Screening followed by Q&A with Filmmaker Joanne Williams.
AFRICAN HERITAGE INC. HOSTS THE 24TH ANNUAL FOX CITIES BLACK HISTORY PROGRAM, FOX VALLEY TECHNICAL COLLEGE
Saturday, Feb. 11th | 11AM – 2PM
Screening and Discussion with Filmmaker Joanne Williams + Free Soul Food Lunch.
.
.