KAUKAUNA — The new interpretive trail along the locks in Kaukauna officially opened Wednesday, connecting hikers and bicyclists to a part of Kaukauna's rich history along the Fox River.
The trail can be accessed near the Veterans Memorial Bridge in Kaukauna.
The 1.3 mile trail runs adjacent to all five historic locks and gives pedestrians and cyclists a chance to see the locks in action, view the Grignon Mansion as well as one of the swing bridges built in 1901 that is still in use by the railroad today.
This project provides a living history experience through the locks and opens the story of the lock system for many more residents of the community and all of Wisconsin.
Way-finding signs will communicate information and lore about the world's only working, hand-operated lock system.
A $300,000 grant from the David L. and Rita E. Nelson Family Fund within the Community Foundation for the Fox Valley Region made the trail project possible.
The fund also was a major backer of the Nelson Family Heritage Crossing that opened in June of 2021.
The trail stretches along the north bank of the Fox River from the dam near Wisconsin Avenue and Lawe Street to Kaukauna Lock 5 near the end of Augustine Street.
It features a close-up look at how the locks operate and a chance to chat with the lock tenders. The trail also will pass one of two railroad swing bridges built in 1901 and still in use.
Construction of the Kaukauna Interpretive Trail started in 2021 on land owned by the Fox River Locks System Authority, as the restoration of the five Kaukauna locks was being completed. The Kaukauna Locks, part of the 17-lock system, were built in the 1850s.
People are often surprised to learn the drop in the Fox River's elevation between Lake Winnebago and the river's mouth in Green Bay is about equal to the height of Niagara Falls. The largest portion of that drop – more than 50 feet – is contained within the five locks in Kaukauna.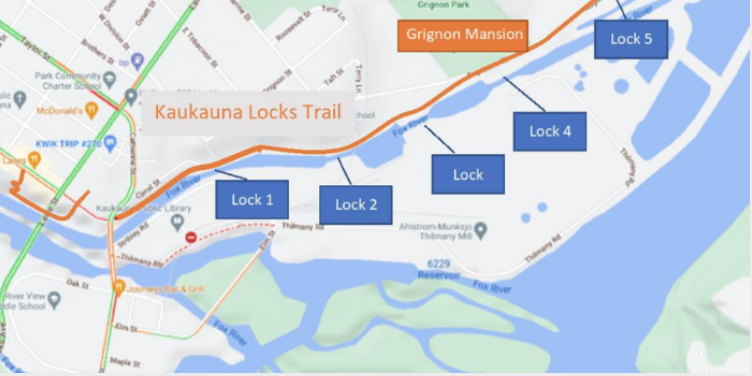 .
.
.