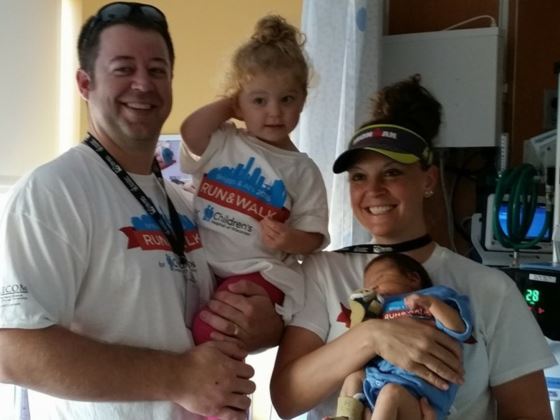 KAUKAUNA — Friends and family are rallying around a Kaukauna couple whose baby has already endured multiple surgeries as she battles serious health issues.
There are now several ways to help the family with quickly mounting expenses related to her care.
Macy Van Zeeland, daughter of Adam and Molly Van Zeeland and sister to Paige, was born in July 2016 and has been undergoing intense medical treatments since then.
Macy was born with a condition where there is an abnormal connection between her airway and esophagus, and her esophagus was not connected to her stomach, according to her mother, Molly.
"After that initial surgery, Macy has battled many issues including feeding issues, swallowing issues, respiratory issues and infections," Molly said.
This winter Macy was hospitalized two times with pneumonia and a viral infection requiring intubation for respiratory support.
Following these hospitalizations, Macy has required increased respiratory support.
Finally, the surgeons decided she needed an additional surgery to fix her floppy airway. They first tried a routine procedure called a aortopexy and tracheopexy where her airway was stented open with sutures to her sternum.
Unfortunately, this surgery wasn't enough to help Macy. The surgeons opted to perform a tracheal resection and reconstruction. Basically the surgeons removed the area where her airway that was collapsing and connected the other two ends.
Molly said Macy currently is hospitalized in the recovery stage from the surgeries. She picked up an infection in the hospital and is still requiring quite a bit of respiratory support.
The family has been going back and forth to Children's Hospital.
Adam Van Zeeland, who played basketball for the Galloping Ghosts while in high school, has seen an outpouring of support.
At the Thursday, Feb. 9 2017 basketball game, the Kaukauna Boys Hoops Club sponsored a miracle minute, where voluteers went into the stands to collect as many donations as possible.
Fans contributed $2,954.20 to the effort.
The Hoops Club still is collecting donations: Send check to Kaukauna boys hoops club 429 Park Street Kaukauna re: Macy (payable to Molly Van Zeeland)
Now, a page has been set up at the YouCaring.com website for others who would like to support Macy. A benefit for Macy also is planned for May.
As of Friday, Feb. 11, 2017, more than $2,000 has been pledged.
Visit the page HERE. A photo gallery is HERE.
Here's what the family wrote on YouCaring.com:
As we all know, Molly, Adam, Paige and Macy have been on quite a journey these past 6 months. This strong, close-knit family has taught us quite a bit about strength, hope, and perseverance in the face difficulty and uncertainty.
It is safe to say that hundreds of family members, friends, colleagues, teammates, etc. have continued to follow the VanZeeland's journey and pray for positive results for Macy in all that she has endured.
Many have wondered (and asked) how they can help the Van Zeelands as Macy continues to heal and as their stay in Milwaukee lengthens after Macy's most recent surgeries.
First and foremost, the family is grateful for your love, support, and friendship. This is truly the greatest gift of all.
In conjunction with the Kaukauna Hoops Club Miracle Minute Event this week, along with a large benefit being planned in May in honor of Macy, we would like to extend the opportunity for those near and far to support the VanZeeland family through this YouCaring site.
This site will be opened from now until the benefit in May as we continue to rally around Molly and Adam. Any donation, small or large, will be received with love and gratitude.
Please Note: This site does not mandate extra fees to support it, but it does request them. So you will need to be sure to uncheck the appropriate box when filling out your donation.