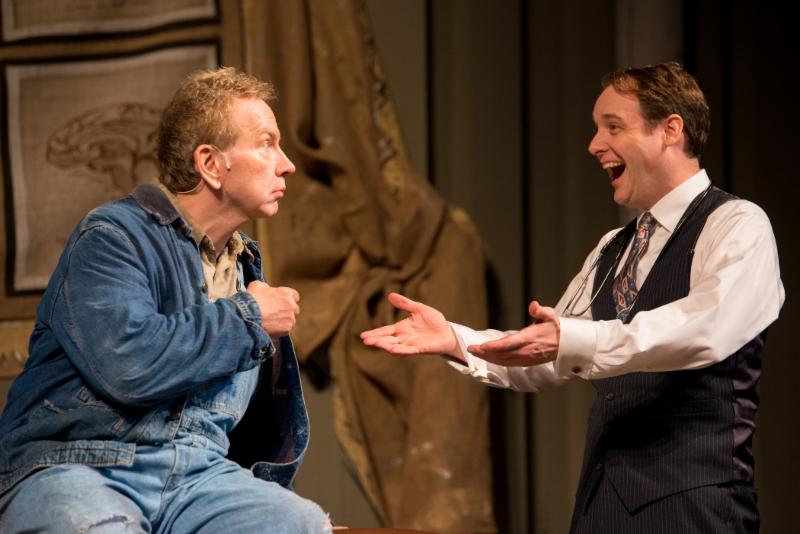 Northern Sky Theater press release
FISH CREEK — Northern Sky Theater has announced its 2017 Summer Season in Door County, Wisconsin.
This season includes four musical comedies playing in rotating repertory at their outdoor amphitheater in Peninsula State Park.
The summer world premiere will be "Oklahoma in Wisconsin." Richard Castle and Matthew Levine have written a musical described as a charming "doo-woppin', fish-boilin' good-time" homage to Door County that highlights the quirkiness of a family run inn in the 1950s. This is Northern Sky's third collaboration with New Musicals Inc. after the success of "Windjammers" and "When Butter Churns to Gold."
Joining "Oklahoma in Wisconsin" is Matt Zembrowski's "Doctor! Doctor!," in which a retiring small town physician recruits his young big city nephew to take over his practice.
"'Doctor! Doctor!' was received by such large and appreciative audiences in 2016 that we just had to bring it back another year," notes Marketing Director, Ann Birnschein.
Fulfilling constant fan requests, "Victory Farm," by Emilie Coulson, Katie Dahl and James Valcq, will return for it's third run with Northern Sky. Set during World War II, Victory Farm is a story with roots deep in the soil of a Door County cherry orchard.
"Last year, our world premiere, 'Doctor! Doctor!,' was set in 1938. Our world premiere this year, 'Oklahoma in Wisconsin,' is set in the 1950s. So bringing back 'Victory Farm,' set in 1944, fills in the decades nicely." stated Artistic Director, Jeffrey Herbst. "All of these shows are set in Door County, providing a glimpse into the way things were and illuminating how much of that character is still part of what makes Door County so alluring."
"Lumberjacks in Love," by Fred Alley and James Kaplan, also returns to the woods for a one-night a week special. Holly Feldman, Director of Public Relations, notes "With each new year comes an opportunity to introduce a new generation of fans to this cult classic."
Northern Sky's Summer Season runs from June 14, 2017- Aug. 26, 2017 at the Peninsula State Park Amphitheater in Fish Creek, Wisconsin. General admission tickets are $22 for adults, $11 for students, and $6 for children 12 and under. Reserved seats are $7 more per ticket. There is no park sticker required to attend performances in the State Park.
The company's fall season featuring the world premiere of "Naked Radio," written by veteran Northern Sky collaborators Dave Hudson and Paul Libman, will be held indoors at the Door Community Auditorium in Fish Creek from September 1st – October 21st.
Casting will be announced this spring.
Tickets
Tickets for both the summer and fall season will go on sale April 1, 2017 in the Northern Sky box office at the Green Gables shops in north Ephraim, via phone at (920) 854-6117, and online at www.NorthernSkyTheater.com.
Northern Sky Theater is a non-profit professional theater organization that produces original musical shows in repertory from June through August at the Peninsula State Park Amphitheater. Northern Sky continues its performances into the fall with shows at the Door Community Auditorium September through October and over the Christmas holidays in local town halls.