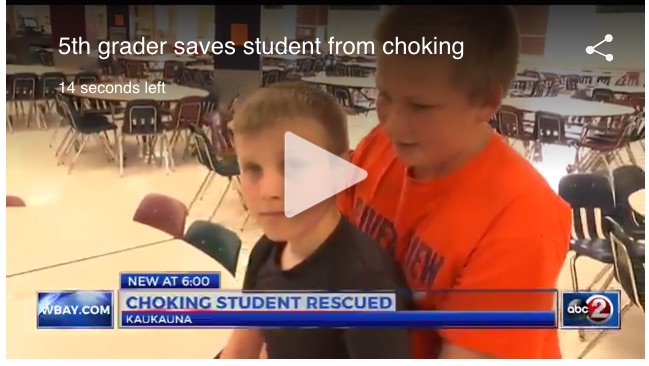 KAUKAUNA — Jordan Loose, a fifth grader at River View Middle School in Kaukauna, is being credited with quick thinking an decisive action when he rescued his best friend, Chad Krabbe, from choking.
The two Kaukauna boys, who have been friends since grade school, were profiled on WBAY-TV. (Read the full story HERE.)
They were eating lunch Thursday, May 5, 2016 when Loose noticed Krabbe appeared to be choking, according to the report.
"I tossed too much cheese in my mouth and I started to swallow it, but then it got stuck in my throat and I couldn't breathe much," Krabbe told the TV station.
So Loose performed the Heimlich maneuver on his friend, a technique he learned only last month in Boy Scouts.
Krabbe was more than grateful.
"I just came up to him and I'm like, thanks and we just hugged," he said.