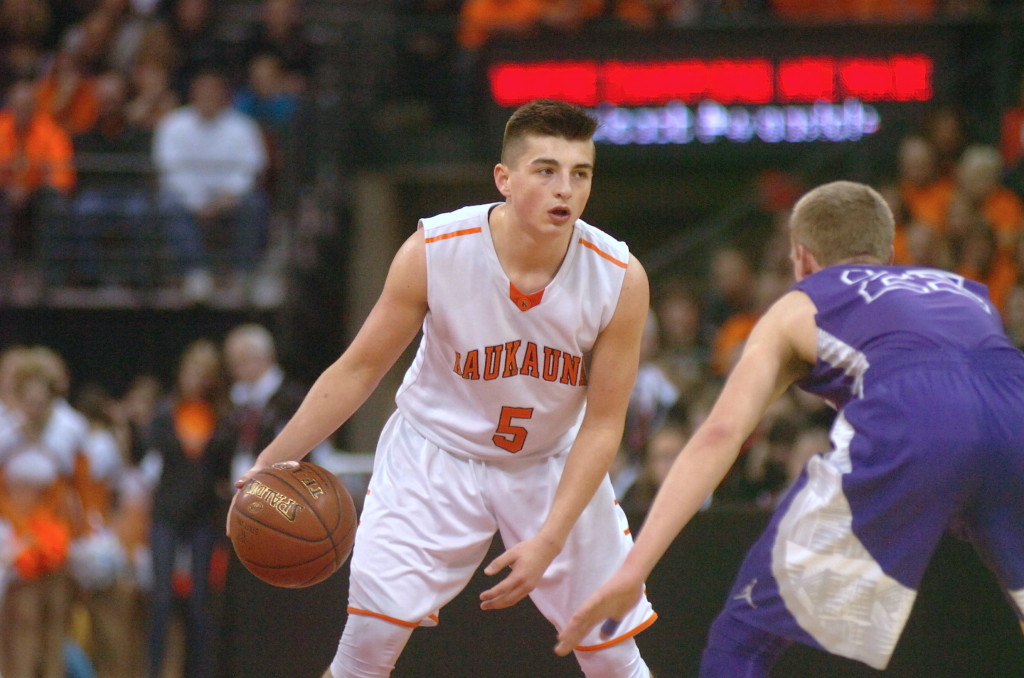 KAUKAUNA — Jordan McCabe, Kaukauna's sensational sophomore who led the Galloping Ghosts the the WIAA Division 2 state title last month, was named to the first team of the 2016 Associated Press all-state boys basketball team.
Kaukauna's Adam Smith received honorabe mention honors.
McCabe previously had been named Fox Valley Association player of the year before leading Kaukauna to its record setting 91-72 state championship win March 19, 2016 over Waunakee.
Sam Burkart of Appleton Xavior and Zac Haese of Wrightstown also received honorable mention.
FIRST TEAM
Trev Anderson, 6-2, sr., Stevens Point; Sam Hauser, 6-6, sr., Stevens Point; Kobe King, 6-3, jr., La Crosse Central; Jordan McCabe, 5-10, so., Kaukauna; Juwan McCloud, 6-0, sr., Germantown
SECOND TEAM
Deang Deang, 6-4, sr., Madison East; Joey Hauser, 6-7, so., Stevens Point; Davis Larson, 6-4, sr., Sheboygan North; Terrence Lewis, 6-6, jr., Milwaukee Riverside; Te'Jon Lucas, 6-1, sr., Milwaukee Washington
THIRD TEAM
Tyree Eady, 6-3, jr., Middleton; Ben Heiligenthal, 6-3, sr., Burlington Catholic Central; Seth Kostroski, 5-11, sr., Sauk Prairie; Caleb Wagner, 6-2, sr., Muskego; Nick Wagner, 6-3, sr., Gale-Ettrick-Trempealeau
FOURTH TEAM
Peyton Dibble, 6-6, sr., Cameron; Jack Flynn, 6-8, sr., Appleton West; Tyler Herro, 6-4, so., Whitnall; Logan Rohrscheib, 6-2, sr., Eau Claire Regis; Kyle Rutkowski, 6-6, sr., Evansville
HONORABLE MENTION
Bennett Vander Plas, jr. Ripon; Blake Ehrke, sr., Deerfield; Alec Fruin, jr., Beloit Turner; Mitch Listau, so., Waunakee; Jake Nixon, sr., East Troy; Benjamin Rounds, sr., McFarland; Charlie Soule, sr., Oregon; Sam Burkart, sr., Xavier; Ryan Krueger, jr., Hortonville; Zac Haese, sr., Wrightstown; Nathan Schmidt, sr., Shiocton; Adam Smith, jr., Kaukauna; Jake Zeitler, sr., Luxemburg-Casco; Mitch McFarlane, sr., Winnebago Lutheran; Marcus Domask, Fr., Waupun; Michael Richter, sr., Ozaukee; Devin Gallenberger, sr., Howards Grove; Tyler Biadasz, sr., Amherst; Josiah Goerlitz, jr., Owen-Withee; Jared Joslin, sr., Port Edwards; Adam Vandenberghe, sr., Solon Springs; Chris Knight, jr., Madison Memorial; Simon Lensmire, sr., Lake Mills; Storm Murphy, jr., Middleton; Matthew Myers, jr., Barneveld; DeAndre Johns, jr., Kenosha St. Joseph; Harrison Cleary, sr., Oak Creek; Koreem Ozier, jr., Racine Case; Kaj Days, sr., Racine Park; Kostas Antetokounmpo, sr., Whitefish Bay Dominican; Job Alexander, sr., Marquette; John Diener, so., Cedarburg; Taurus Adams, Sr., Brown Deer; Isaac Appleby, sr., Eau Claire Memorial; Nate Stanley, sr., Menomonie; Owen Hamilton, jr., Prescott; Logan Bader, sr., Unity; Bailey Kale, jr., La Crosse Central; Luke Reader, jr., Bangor; Aaron Scafe, sr., Melrose-Mindoro; CJ Siegel, so., La Crosse Logan; Max Stockwell, sr., Hillsboro; Jordan Poole, jr., Milwaukee King; Anthony Thomas, sr., Milwaukee North; David Pulizos, sr., Greendale